90 Day Fiance: Happily Ever After's Moldovan Wedding Was By Far The Greatest Drama This Series Has Delivered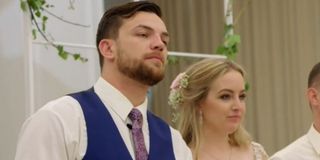 Warning! The following contains spoilers for the 90 Day Fiancé: Happily Ever After? episode "To Love And To Obey." Read at your own risk!
90 Day Fiancé: Happily Ever After? has been teasing some big drama coming for loving couple Andrei Castravet and Elizabeth "Libby" Potthast all season long, but the worst of it already seemed to be over. Andrei's big secret for why he left Modova was out in the open, and much to the dismay of Elizabeth's family, it wasn't because he did something wrong and criminal. Admittedly, I was fully prepared to tune out the rest of their story of the second wedding celebration, that is until this recent episode made it apparent that their mess was only getting started.
I'm not exaggerating when I say the Andrei and Libby's Moldovan Wedding Reception was some of the most enjoyable drama I've seen on this series to date. Just when I had given up on this couple, they reeled me right back in thanks to the constant war that rages on between Andrei Castravet and Elizabeth Potthast's family, along some other cool stuff.
The Moldovan Reception Was So Over The Top
American wedding receptions are pretty fund, depending on what's being served, and I would've assumed they made for one of the best celebrations that someone could attend. At least until I saw the way Moldovia handles wedding receptions. It was like a full stage show mixed with all the fun, dancing, and drinking that accompanies a usual wedding reception. At one point there were dudes with capes doing flips and playing drums, which I'm sure I will sadly never see at an American wedding.
I also have to say, I wish my own wedding had some of that delicious looking Bride's Bread that I could have broken apart like a wishbone in front of all my attendees. This was one of those rare moments on 90 Day Fiancé: Happily Ever After? where another culture's customs were put on full display, and it all looked really cool. I can only hope the show continues to present other cultures in a more positive light and expands upon that concept.
The Potthast Family Had Squashed The Beef, But No One Told Charlie
90 Day Fiancé: Happily Ever After? has certainly shown the Potthast family tends to rile up Andrei Castravet, perhaps to make things a bit more interesting on camera. While there was plenty of that already this season, the family seemed to collectively agree to put that on hold for this special day. Unfortunately, it appears no one told Libby's brother Charlie, who drank a bit too much and got progressively more belligerent throughout the evening.
It started out with small jabs but then built. up to a sloppy wedding speech that, as a small consolation, may have only been understood by a small percentage of the wedding reception. Charlie took the microphone from his father and began to insult Andrei, telling him he needs to be his own man and stop living off the Potthast family money. Andrei fumed as he was humiliated in front of family and friends, and told Libby under his breath he was going to beat her brother's ass.
The Big Confrontation
After the speech ended, the wedding went on pretty swimmingly. People were having a bit of fun, but Andrei made a beeline for Charlie, who was out on the dance floor stumbling around, and carrying on as nothing happened. That is, up until Andrei snatched him up to go outside.
Unfortunately, that's about all 90 Day Fiancé: Happily Ever After? showed from that confrontation, which was probably the right play. I'm all-in seeing on what happens with this alcohol-infused showdown next week, especially after Charlie and Andrei nearly came to blows only a few episodes prior. Honestly, I doubt Andrei will beat Charlie up, especially considering how inebriated his brother-in-law looks. But perhaps there will finally be some understanding on the Potthast family side that maybe they took their feud with Andrei just a bit too far.
Hopefully, we'll see how this situation worked out when 90 Day Fiancé: Happily Ever After? airs on TLC Sunday at 8:00 p.m. ET. Continue to stick with Cinemablend to stay on top of what's happening in the franchise, and for the latest news in television and movies.
Mick likes good television, but also reality television. He grew up on Star Wars, DC, Marvel, and pro wrestling and loves to discuss and dissect most of it. He's been writing online for over a decade and never dreamed he'd be in the position he is today.
Your Daily Blend of Entertainment News
Thank you for signing up to CinemaBlend. You will receive a verification email shortly.
There was a problem. Please refresh the page and try again.