Outlander's Duncan Lacroix Talks The 'Weird' Parts Of Murtagh's Death Scene, Working With Sam Heughan And More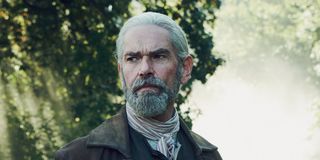 Outlander went hard on the heartbreak to go with the weddings and births in Season 5, and possibly the most devastating twist came with the death of Murtagh. As the time-travelers already knew and viewers could certainly guess, Murtagh's role as leader of the Regulators couldn't end in any kind of victory over the English, but even knowing that his odds of survival weren't the best didn't make his death any easier. Fortunately, actor Duncan Lacroix spoke with CinemaBlend about his character's death, working with Sam Heughan in those fateful final scenes, and more.
Duncan Lacroix played Murtagh from the very beginning, even beyond the Battle of Culloden in early Season 3 that resulted in the death of his book counterpart. With Murtagh surviving in the show beyond the books, there was no saying what his final fate would be. Lacroix shared his reaction to his character's death after all those years, saying:
As an actor, Duncan Lacroix knew that Murtagh was going to die in Season 5, so he didn't get an unwelcome surprise when "The Ballad of Roger Mac" rolled around as his final episode playing a living character. After everything Murtagh went through over the years, it's no surprise that Lacroix would get emotional about saying goodbye! Plenty of viewers were emotional about it as well.
Of course, Murtagh's survival in the show kept him alive well beyond Murtagh's death on the pages of Diana Gabaldon's novels, and he was arguably the biggest variable of the whole series to date, so his death was a game-changer in more ways than one. Not only was Jamie losing his beloved godfather and fans finally had to say goodbye to a fan-favorite, but the show could either go back to the book plots or continue with the divergences.
Either way, the aftermath of Murtagh's death has had the potential to take the show into some strange and uncharted territory. Duncan Lacroix shared another way that Murtagh's death was weird, saying:
Murtagh and Jamie would have had even more reasons to be upset if there were wasps in the mix on top of everything else! Fortunately, Murtagh's on-screen death focused more on the decades-long relationship between Jamie and Murtagh, and none of the emotion was ruined by any behind-the-scenes elements. Including wasps!
Even though Murtagh's death scene happened with only Jamie present, that wasn't Duncan Lacroix's only time playing a mortally wounded Murtagh in Season 5. Poor Jamie was so devastated at what happened to Murtagh that he dragged his godfather's body to Claire, to demand that she heal him.
Sadly, Murtagh was already gone, and there was nothing left for Claire to heal. Duncan Lacroix was tasked with playing a dead body while Sam Heughan and Caitriona Balfe turned in heartbreaking performances around him. Lacroix shared the experience of playing dead:
There probably weren't a whole lot of dry eyes in the Outlander fandom after watching Murtagh die, and then Jamie and Claire's reactions on top of everything else! There had been many times in the past when Jamie had reason to think Murtagh might be dead, but this was very real for the characters. Considering that there had been speculation that Jamie would have to kill Murtagh himself, Murtagh's death happening the way it did may have been a relief to at least some fans.
Murtagh's death likely wouldn't have packed the same emotional punch without Duncan Lacroix and Sam Heughan playing Murtagh and Jamie's final interactions as they did, and Lacroix shared how their dynamic from years working together impacted the big death scene:
Murtagh's death brought his arc in Season 5 full circle, following his emotional parting with Jamie in the Season 5 premiere all the way through to their all-too-fleeting reunion on the outskirts of battle before he perished. Outlander also guaranteed that Murtagh wasn't forgotten as soon as the episode of his demise was over; Murtagh's grave is on the Fraser's Ridge set, positioned with a tree. Even as the Frasers' stories continue, Murtagh will be with them.
Murtagh was obviously still on Claire's mind as of the Season 5 finale, as he was part of the imaginary world she built for herself to escape what was being done to her by Lionel Brown and his men. It wasn't a happy reason to have Duncan Lacroix back as Murtagh, but it was still great to see him again, and to get a break from what was happening to her.
You can revisit Murtagh's final arc with Outlander Season 5 now available on Blu-ray, with special features including four never-before-seen "Outlander Untold" bonus scenes, a blooper reel, featurettes, and more. Outlander will return to Starz (opens in new tab) for Season 6, and more than one member of the cast is more than ready to get back to set. If you're in the market for some additional viewing options, be sure to check out our 2020 fall TV premiere schedule.
Resident of One Chicago, Bachelor Nation, and Cleveland. Has opinions about crossovers, Star Wars, and superheroes. Will not time travel.
Your Daily Blend of Entertainment News
Thank you for signing up to CinemaBlend. You will receive a verification email shortly.
There was a problem. Please refresh the page and try again.