Sam Heughan Revealed The Awesome Way Outlander Permanently Honored Duncan Lacroix's Murtagh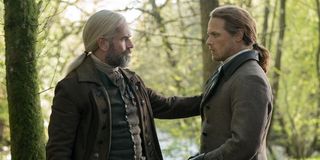 Ahead of Outlander's Season 5 premiere, many wondered whether Jamie Fraser's beloved godfather Murtagh would survive the season. The character originally died in the Battle of Culloden in Diana Gabaldon's book series, so the live-action Murtagh had outlived his counterpart. Suffice it to say that Murtagh did meet his demise in Outlander Season 5 and Sam Heughan revealed the awesome way the show permanently honored Duncan Lacroix's character.
Murtagh protected Jamie until his dying breath. When Jamie couldn't get out of fighting the Regulators on behalf of Governor Tryon for fear of losing his land and being named a traitor, it put him on the opposing side of his godfather, the Regulators' leader. Things didn't end well and, after saving Jamie from being shot, Murtagh took a bullet and died in his godson's arms. It was utterly heartbreaking and emotional.
Murtagh (and Duncan Lacroix) may no longer be a part of Outlander moving forward, but the cast and crew managed to honor him on the show in a special way. Here's what Sam Heughan told Gold Derby:
That's an incredibly thoughtful way to keep Duncan Lacroix's Murtagh around despite the character's death. Sam Heughan went on to discuss how concentrated he was on the storyline of Murtagh's death and how "immersive" the experience was. Despite the heaviness of those scenes, the actor "loved" working on them with Lacroix. The raw emotion depicted in the death scene is testament to the onscreen and offscreen bond the actors and characters shared.
Sam Heughan has spoken before about how "tough" it was to say goodbye to Duncan Lacroix and Murtagh in Outlander Season 5. Both the actor and the character were a huge part of the show and its legacy. Fortunately, the cast and crew got to spend more time with the actor throughout the season because the death scene wasn't the last to be filmed.
The writers seem to love Duncan Lacroix and Murtagh a lot as well because they found a way to include him in the Season 5 finale. He appeared in dream-like sequences that were set in the future, all of which took place inside Claire's mind. I'm personally happy that Murtagh stuck around past the Battle of Culloden and I think it was one of the better changes that the Starz show made to its source material.
The first three seasons of Outlander are currently streaming on Netflix. Meanwhile, Season 4 and Season 5 are available to watch on Starz. For more on what to watch, be sure to check out our 2020 summer TV premiere guide.
Your Daily Blend of Entertainment News
Thank you for signing up to CinemaBlend. You will receive a verification email shortly.
There was a problem. Please refresh the page and try again.