Why CBS' SEAL Team Won't Address Coronavirus In Fall 2020 Return For Season 4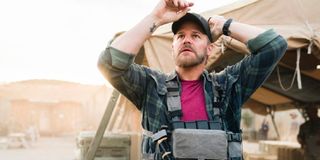 The hot topic for many shows headed into the 2020-2021 TV season is, of course, the still-ongoing pandemic. Medical dramas like Grey's Anatomy, New Amsterdam, and The Good Doctor are confirmed to be tackling coronavirus storylines. Even NCIS: New Orleans and This is Us will take on the health crisis in various ways. However, there is at least one major drama that won't address Covid-19 this fall, and it's CBS' SEAL Team.
Like so many other shows, SEAL Team had to shut down production back in March, leaving two of its Season 3 episodes unfinished. Now that the cast and crew are headed back to film Season 4, the series is able to pick up where Season 3 left off. Just don't expect the CBS drama to follow in the footsteps of other series with regards to COVID-19. In fact, SEAL Team showrunner Spencer Hudnut is not interested in doing a pandemic storyline for a couple of reasons. Here's what he told TVLine:
I agree that it would be strange and rather jarring to pick up where Season 3 left off and then run headfirst into tackling a world overrun by COVID-19. With so many other shows covering the pandemic anyway, I'm sure it'll be a bit of a relief for viewers to watch something that's simply "an escape" from reality, as opposed to a mirror image of it.
Spencer Hudnut elaborated a bit, citing that SEAL Team's themes already involved paying tribute to those who risked their lives on the frontlines. While the CBS drama isn't centered on doctors, nurses and other healthcare professionals, Hudnut does believe that the audience will make note of those themes when tuning in to watch Season 4.
Of course, while the pandemic may not appear in a storyline onscreen, it has certainly impacted SEAL Team behind-the-scenes. All TV and movie productions have implemented safety protocols and measures to protect its cast and crew, which includes mandatory quarantine and COVID-19 testing.
The safety measures will also affect how the series will implement guest stars in its future episodes. SEAL Team doesn't function in a vacuum, of course, and has a number of guest characters and extras appearing on a weekly basis. Considering that the actors would have to quarantine first, Spencer Hudnut says they can no longer just fly in guest stars to film their scenes on a day-to-day basis anymore. That change has certainly impacted the way the writers will tell stories in Season 4.
SEAL Team Season 4 is currently scheduled to premiere at some point in November on CBS, and will air on Wednesdays at 9:00 p.m. ET. Stay tuned to CinemaBlend for updates. For more on what to watch this fall, be sure to check out our 2020 TV premiere guide.
Your Daily Blend of Entertainment News