Blue Bloods, SEAL Team And Other Shows Are Now A Step Closer To Restarting Production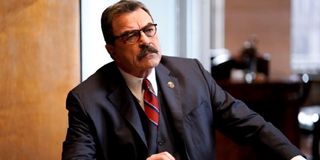 'Tis the season for several TV productions to resume filming. Due to the pandemic, hundreds of series and films shut down in March but have slowly been picking back up with work again. Now that safety protocols and health guidelines have been established, TV shows like The Conners, The CW's Batwoman and many more have officially gone back into production. Now, Blue Bloods, SEAL Team and other CBS-produced shows are also one step closer to restarting production.
CBS TV Studios' NCIS and NCIS: Los Angeles were the first to resume filming. Blue Bloods, SEAL Team, The CW's Charmed, and Nancy Drew have also been given the green light to begin filming their new seasons. Showtime's Your Honor and CBS drama Blood and Treasure are also slated to restart production.
According to Deadline, Evil and Disney+ original series Diary of a Female President are likely to get the go-ahead to restart very soon. What's more, CBS TV Studios is reportedly green-lighting the series in batches rather than altogether, primarily because it depends on the instating of safety measures. That includes mandatory quarantine and testing for COVID-19. After which, each show is given a start date to resume filming.
Blue Bloods, Charmed, SEAL Team, and Nancy Drew are all expected to pick back up with their respective productions over the next few weeks, most likely due to the cast having to quarantine ahead of their return. As an example, the Supernatural cast quarantined for two weeks before production on the series' final episodes resumed in mid-August.
It's unclear how the COVID-19 protocols will impact the series moving forward. The Bold and the Beautiful resumed filming in June and was sort of a blueprint for how to safely get back to work. The series employed the use of latex mannequins to film intimate scenes. However, my guess is that this tactic may not be as necessary if the cast has to undergo testing on a regular basis. That said, nothing has been confirmed with regards to how scenes will be filmed for Blue Bloods and co., and that's simply my speculation.
In addition to working around the pandemic, Hollywood has been faced with criticism with regards to the portrayal of TV cops in the wake of the Black Lives Matter movement and discussions surrounding police brutality and racism. In that vein, CBS TV Studios hired 21CP Solutions to consult on all of its police and legal dramas (of which there are many). The consultants will include civil rights scholars, lawyers, academics, and more who will deeply analyze how law enforcement is portrayed moving forward.
Blue Bloods, Evil, and SEAL Team are still on CBS' schedule to return at some point this fall. Of course, no premiere dates have been confirmed, but stay tuned to CinemaBlend for updates. For more on what to watch in the meantime, be sure to swing by our 2020 fall TV premiere guide.
Your Daily Blend of Entertainment News
Thank you for signing up to CinemaBlend. You will receive a verification email shortly.
There was a problem. Please refresh the page and try again.