Superstore Season 6 Is Bringing America Ferrera Back For More Episodes Than Expected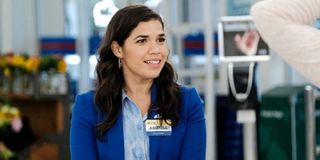 Superstore Season 5 was set to mark the end of America Ferrera's run on the NBC sitcom. However, the ongoing pandemic shut down productions in March, and that led to only one half of the two-part finale being completed. The good news is that it prompted Ferrera's return in the Season 6 premiere. She still had to say goodbye to the rest of her coworkers, after all! In even better news, the actress will be back for even more episodes than expected in Season 6.
At the end of Season 5, America Ferrera's Amy accepted a job at Cloud 9's corporate offices in California. The unintended finale ended with Jonah agreeing to move across the country with her. Naturally, Part 2 of the Season 5 ender will now serve as the Season 6 premiere, which will now include a COVID-19 storyline. Not only will Ferrera be back to wrap up Amy's storyline, but she'll be returning for Season 6's second episode as well. Here's what co-showrunners Jonathan Green and Gabe Miller told TVLine about her return:
The fact that Amy's last day just so happens to be Superstore's 100th episode is pretty impressive and it sounds like it'll be a momentous occasion all around (I have tissues at the ready). I'm happy that America Ferrera won't be gone as soon as we thought she would be, but it's still sad that her extension didn't last for a few more episodes past the second.
I'm still wondering what will happen with Amy and Jonah, whose relationship has been one of the cornerstones of the series. Will Jonah move to California for a while and come back? Will he and Amy try a long distance relationship before calling it quits? I'm clearly fearing for the worst here, but I just don't see how they'll manage to make it work, and I'm hoping that the writers figure out a way to iron out the sticky details of their physical separation.
Speaking of being physically separated, Superstore's showrunners revealed a few details about how the show will handle the ongoing pandemic. COVID-19 and social distancing measures will delay Amy and Jonah's move initially, leaving Amy to start her new job remotely while still working at Cloud 9. Superstore will also include time jumps throughout the first episode and the characters' handling of the pandemic in relation to their jobs (which now includes wearing masks).
Superstore Season 6 will premiere on Thursday, October 22 at 8:00 p.m. ET on NBC. For more on what to watch, be sure to check out our updated fall TV schedule.
Your Daily Blend of Entertainment News