All The Classic Horror References In Lovecraft Country So Far, Explained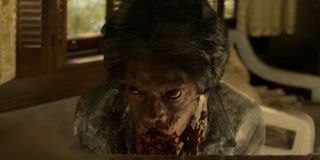 WARNING: The following article contains spoilers to the creepy encounters depicted on Lovecraft Country, which we recommend you catch yourself up on before proceeding with this journey.
To give a TV show the title Lovecraft Country is to promise the audience with a fair share of old school horror. While the spellbinding HBO original series actually manages to be at its truly scariest with depictions of Jim Crow era injustice, its fantastic imagery and monstrous encounters have certainly not disappointed.
Developed by Misha Collins with producers Jordan Peele and J.J. Abrams, Lovecraft Country is based on the 2014 novel of the same name by Matt Ruff, to whom H.P. Lovecraft is clearly an inspiration. Of course, the way the story sets itself apart from the highly influential horror author is by adapting essential elements of his most famous creations, and that of other well-known authors and folk legends, as an allegorical (and, sometimes, pretty straightforward) representation of racial injustice in mid-20th Century America. In fact, the power of its historical references have the potential to distract from the specific examples of genre fiction it alludes to.
However, for those with a keen knowledge of all things sci-fi, fantasy, and more, Lovecraft Country is an, otherwise, delightful smorgasbord of references to the literature and folklore that fans to obsess over. For everyone else left disturbed and confused by the startling creatures, wicked revelations, and other odd twists and turns, allow us to help by providing deeper into eight of the series' most horrifying and spectacular moments, three of which show up within the first two minutes.
Martian Tripods (The War of the Worlds)
The first episode of Lovecraft Country, titled "Sundown," wastes no time delivering what fans of its namesake author have tuned in to see, although H.P. Lovecraft is not the only writer paid homage to. Among the first otherworldly sightings in Atticus Freeman's (Jonathan Majors) dream sequence, fusing Korean War PTSD with his literary obsessions, are three-legged, laser-toting machines piloted by unfriendly extraterrestrials. These tripods are the way H.G. Wells imagined how Martians would invade and destroy humankind in his 1897 novel The War of the Worlds prior to the popularization of flying saucers.
Red-Skinned Alien Woman (The Princess of Mars)
Speaking of flying saucers, in the same scene, one appears right above where Atticus stands as a woman with reddish skin and a golden bikini (Jamie Chung, in only her first Lovecraft Country role) descends from inside the vessel to give him a hug - seemingly a reward for his heroic acts (if you can call them that) at first. The female visitor bears a resemblance to the title character of 1917's The Princess of Mars, which the 2012 Disney movie John Carter is based on. Atticus' mention of reading Edgar Rice Burroughs' sci-fi adventure epic to a fellow bus passenger later in the episode confirms the connection.
Cthulhu (The Call Of Cthulhu)
The Martian princess' greeting also appears to be a warning to Tic that a slimy, winged, gargantuan beast with as many eyes as it has tentacles stands beside him, which we can easily assume is Cthulhu - a benchmark of the modern creature feature first introduced in H.P. Lovecraft's 1928 short story "The Call of Cthulhu." Arguably his most famous creation, the Cthulhu sighting is Lovecraft Country's first overt reference to the author, but what really makes the scenes is when the monster falls prey to Jackie Robinson's bat.
Shoggoths (At The Mountains Of Madness)
The first real sighting of an H.P. Lovecraft creation on the series occurs later in the first episode, when a group of racist cops' apprehension of Tic, Leti (Jurnee Smollet), and Uncle George (Courtney B. Vance) is interrupted when they become dinner to what we presume are Shoggoths.
Described in the Lovecraft novella At the Mountains of Madness as typically protoplasmic, multi-eyed creatures, Lovecraft Country introduces a more "vampiric" interpretation, depicting them as amorphous, nocturnal, and able to pass their physiology onto a human through its bite. The monster earns a reprise in the following episode, "Whitey's on the Moon," when Christina Braithwhite (Abbey Lee) appears to birth an infant Shoggoth from a pregnant cow.
Ardham Lodge (Various)
It is also in the second episode of Lovecraft Country when Tic, Leti, and Uncle George meet the fates awaiting them at the Braithwhite Family's Ardham Lodge, which Tic and George initially misread as "Arkham" in a note written by Tic's father Montrose Freeman (Michael K. Williams). Not to be confused with a certain criminal institution located in Gotham City, this is a subtle nod (which only devoted H.P. Lovecraft readers may have picked up on) to Arkham, Massachusetts - a fictional town that appears in the short story "The Color Out of Space," as well as in "Herbert West - Reanimator" and several more of the author's notable efforts.
Necronomicon (Various)
Probably the most notorious creation of H.P. Lovecraft, (not just by how often it is borrowed in modern fiction but also for infamous rumors of its true existence) is the Necronomicon. The artifact otherwise referred to as the Book of the Dead is mentioned merely in passing in Episode 2 by George after a book found at Ardham Lodge reminds him of it. However, the Necronomicon's secrets on casting spells and summoning cosmic gods convinces me we have not seen the last of it on Lovecraft Country.
Body Transformation (Strange Case Of Dr. Jekyll And Mr. Hyde)
In fact, the Necronomicon likely contains the recipe for the potion used by Ruby Baptiste (Wunmi Mosaku) to become her caucasian alter ego, Hillary Davenport (Jamie Neumann), and Christina to became William (Jordan Patrick Smith). The fifth episode of Lovecraft Country is appropriately named "Strange Case" as it brilliantly pays homage to Robert Louis Stevenson's celebrated 1886 novel Strange Case of Dr. Jekyll and Mr. Hyde, but with a twist that ups the ante in both poignancy and gruesomeness.
Ruby and Christina literally shedding the skin of their extended personalities once the potion wears off is a bloody treat for body horror fans in the middle of a tale that sheds light on harsh truths of racial and gender-based biases.
Kumiho (Asian Folklore)
The sixth and most recent episode, "Meet Me in Daegu," provided further insight into Tic's service in Korea, but from the point of view of a military nurse he falls for named Ji-ah (Jamie Chung). Little does he know that she is actually a Kumiho, which Korean legend depicts as a nine-tailed fox disguised as a beautiful woman to seduce male victims and absorb their souls and memories through sexual intercourse, almost like a succubus. Ji-ah's unexpected ability to see Tic's future when she loses control of her tails while making love with him is an interpretation unique to Lovecraft Country, only making us more intrigued by what she has to offer in the premiere season's remaining chapters.
What do you think? Has our analysis of Lovecraft Country's horrifying tributes increased your excitement for what it will pay homage to next, or are you still more impressed by its historical themes? Let us know in the comments and be sure to check back for additional information and updates on the bizarre hit series, as well as even more insight into the themes and hidden meanings behind your favorite movies and TV shows, here on CinemaBlend.
Your Daily Blend of Entertainment News
Jason has been writing since he was able to pick up a washable marker, with which he wrote his debut illustrated children's story, later transitioning to a short-lived comic book series and (very) amateur filmmaking before finally settling on pursuing a career in writing about movies in lieu of making them. Look for his name in just about any article related to Batman.