How S.W.A.T. Season 4 Will Kick Things Off For Shemar Moore's Hondo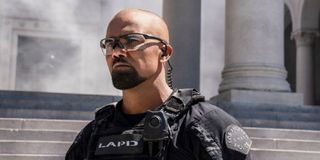 Like all shows, production halted on CBS' S.W.A.T. in March amid the ongoing pandemic, causing Season 3 to end one episode early. The unintended finale ended on a cliffhanger that left Shemar Moore's Hondo without any answers regarding Diablo's cryptic message. Following the episode, showrunner Shawn Ryan revealed what the plans were for the original season-capping installment. Now, the original Season 3 is officially going to serve as the S.W.A.T. Season 4 premiere, and it'll take both viewers and Hondo back to the 1992 L.A. riots.
S.W.A.T.'s episode about the L.A. riots was supposed to air on April 29 to coincide with the infamous event's 28th anniversary, but the production shutdown meant the episode didn't come to fruition. At the time, showrunner Shawn Ryan promised viewers that the episode would indeed be filmed and would eventually air, because it's apparently a "special one." Now, TVLine has confirmed for all fans that the Season 4 premiere will finally delve into the delayed storyline, which will be told from the perspective of a teenage Hondo.
As for who will play the younger version of Shemar Moore's Hondo, Rise vet Donald Dash has been cast in the role for Season 4. Meanwhile, Rico E. Anderson is making his return to S.W.A.T. as the younger version of Hondo's father Daniel Harrelson, Sr. Anderson first played Daniel in the Season 2 episode "Hoax." If I can put my speculation hat on for a moment, it sees very possible that what Diablo was chasing connects back to Hondo and his father's personal experiences during the L.A. riots.
Considering that the S.W.A.T. Season 4 premiere will be told through flashbacks, viewers should expect for the episode to switch between the present timeline and 1992. In the present, Hondo and his team will be picking up where they left off regarding Diablo and the information that he dropped in S.W.A.T.'s lap before being shot. He mentioned that he came to L.A. to stop something and hinted that S.W.A.T. would be interested in it as well.
Whatever the case, an episode depicting the 1992 riots is all the more relevant now as nationwide protests continue to bring focus to matters of racism and police brutality. While S.W.A.T. has never shied away from examining the policing issues within Black communities, a statement from executive producer Aaron Rahsaan Thomas vowed that the writers would continue to "mine the truth about these issues" in Season 4.
S.W.A.T. Season 4 does not yet have a premiere date, but it is expected to debut later this year on CBS. Stay tuned to CinemaBlend for updates and be sure to check out our 2020 fall TV premiere guide for more options.
Your Daily Blend of Entertainment News