Dwayne Johnson Reveals The Actors Who Will Play Him In NBC's Young Rock Series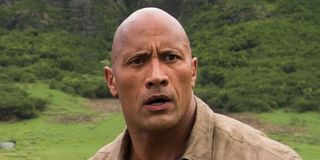 Production has officially begun on the Dwayne Johnson-inspired series Young Rock. The comedy was picked up by NBC and is set to premiere at some point next year. Now that Young Rock is finally getting underway, the wrestler-turned-actor took to social media to reveal the actors who will play him during his earlier years.
Young Rock will (perhaps obviously) be based on Dwayne "The Rock" Johnson's childhood and formative years, which will include his journey from being a young teen through his years as a college-aged football star. The series will depict how his youth helped shape him into the man and superstar he is today. Johnson seems very excited about the upcoming series, unveiling the show's casting himself on his Instagram account. First up is up-and-coming actor Bradley Constant, who will play the 15-year-old Johnson on the series. Take a look below!
Dwayne Johnson is really pumped for Bradley Constant's casting and, when compared to what the WWE star looked like at that age, Constant is apparently "kicking puberty's ass." Johnson should give himself some credit, though, since I didn't know a lot of teens who could grow a convincing mustache at that age.
Meanwhile, Alien: Covenant and Marco Polo star Uli Latukefu has been cast to play Dwayne Johnson during his years at the University of Miami. The Black Adam actor described these years as some of his "most defining" and joked that he ate too much pizza. Check out Latukefu's casting announcement below!
The cast of Young Rock will also include Ana Tuisila as Dwayne Johnson's sweet, but tough grandmother Lia Maivia. Johnson's grandmother actually has quite a dramatic story. Not only was Maivia one of the first women promoters for pro wrestling, she also faced extortion charges and an acquittal before being deported from the country in the '90s. Johnson says he was lucky enough to help his grandma out in life later on. Maivia was also the wife of Samoan professional wrestler Peter Maivia, Johnson's grandfather. Wrestling careers certainly run in the family.
Rounding out the cast for Young Rock are Stacey Leilua as Dwayne Johnson's mother Ata Johnson, Adrian Groulx as the 10-year-old Johnson, and S.W.A.T. vet Joseph Lee Anderson as Rocky Johnson, The Rock's father. Rocky Johnson was also a legendary wrestler and the first Black Georgia Heavyweight Champion. The Rock believes that Anderson's role is special because his father passed away in January of this year, and the first episode of the NBC series will be dedicated to him.
It's been about a month since Dwayne Johnson announced that he and his family had tested positive for COVID-19. He took to social media to drop the news and assured fans that he, his wife, and two daughters were already on "the other end of it" and were healthy and no longer contagious. Now that Johnson is out of the woods, he seems focused on bringing Young Rock to life and I'm sure he'll be providing some more updates on the show as filming really gets going.
Young Rock is scheduled to begin airing at some point in 2021. Stay tuned to CinemaBlend for updates, and be sure to check out our 2020 fall TV premiere guide for more viewing options.
Your Daily Blend of Entertainment News