This Is Us Is Returning To NBC Even Sooner Than We Thought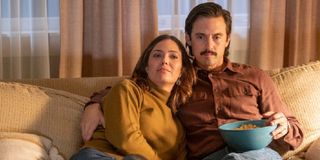 This is Us may have wrapped filming on Season 4 before the production shutdowns throughout the TV industry back in March, but that also meant that the wait time between seasons has been even longer than usual. The good news is that production on the NBC drama has reportedly resumed and the premiere date is coming even sooner than we expected.
The fall TV schedule is shaping up to be a lot fuller than anticipated, especially when considering all the production delays and the additional COVID-19 guidelines that have had to be implemented on sets. However, as productions have resumed, networks have been able to set more concrete return dates. This is Us was originally scheduled to premiere on November 10, but Deadline reports that the series has been moved up by two weeks and will now air its two-hour Season 5 premiere on October 27 instead.
I think that it's pretty great news because it means that This is Us fans will have a much shorter wait-time than previously thought. The initial November premiere date was set three weeks ago, but I guess something must have changed behind-the-scenes for NBC execs to decide to move up the premiere date. Maybe they've been getting good reports on productions that restarted much earlier and think that This is Us will do just as well, but that's simply speculation on my part. I can't speak for everyone else, but I'm more than ready to get this show on the road.
The closer the premiere date, the sooner we find out about what's been happening with the Pearson family. The Season 4 finale left things on shaky ground for Kevin and Randall after they got into a brutal fight and I'd like to think that Season 5 will offer them (and us) some closure.
Now that This is Us will debut much sooner, series star Sterling K. Brown took to Twitter to share the updated info and that fans should not worry because the Season 5 premiere is still going to be two hours long. Take a look!
For anyone worried that the Pearsons won't be as affectionate with each other due to COVID-19, I'd wager that mandatory testing and safety measures will at least make it okay for the Pearsons to be in the same vicinity. That said, This is Us will be tackling a pandemic storyline so I'm sure the characters will address social distancing practices and mask-wearing in Season 5. I'm looking forward to seeing how this all plays out onscreen.
The two-hour Season 5 premiere of This is Us will air on Tuesday, October 27. Stay tuned to CinemaBlend for updates. For more on what to watch this fall, be sure to check out our updated TV guide.
Your Daily Blend of Entertainment News