6 Reasons To Stream The Harley Quinn TV Show On HBO Max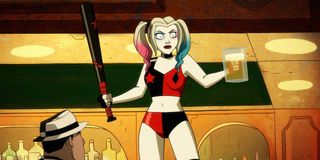 At the moment, there are a number of comics book-based adaptations worth checking out on TV. From The CW's line-up of Arrowverse shows to Marvel's Agents of S.H.I.E.L.D., there's never been a better time to be a comic book fan. At the same time, there are so many series to watch that some may have gone under the radar. Enter the Harley Quinn TV show, the animated DC Universe series that's now on HBO Max.
Harley Quinn begins with Harley's break-up with the Joker, with the goal to establish herself as her a renowned villain on her own terms. It premise may sound a bit similar to Birds of Prey, but the animated series is much different, trust me. The show was first announced back in 2017, with its first season premiering to general acclaim in November 2019.
Mere months later, Season 2 was announced and premiered shortly thereafter on DC Universe. Now that the animated series is also available on HBO Max, there's no better time to check out the show. If you're still not convinced, here are six reasons you should stream Harley Quinn on HBO Max.
Harley Quinn Has A Fantastic Voice Cast
The Big Bang Theory's Kaley Cuoco leads an all-star cast that includes Doom Patrol's Alan Tudyk as both Clayface and the Joker, Law & Order: SVU's Christopher Meloni as Commissioner Jim Gordon, Trolls actor Ron Funches as King Shark, The Mandalorian's Giancarlo Esposito as Lex Luthor, Bless This Mess' Lake Bell as Poison Ivy, and so many more.
Kaley Cuoco worked hard to establish the right voice for her version of Harley Quinn and really enjoys playing the titular character. The bonus is that Cuoco is joined by her sister Briana Cuoco, who voices Batgirl during Harley Quinn Season 2. All these multi-talented voice actors and two Cuocos in one place; what's not to like?
Harley Quinn Doesn't Follow Any Ongoing Continuity
One of the best parts about Harley Quinn is that it doesn't follow any previously existing timelines within the world of DC Comics-based adaptations. In fact, you don't even have to know all that much about most of the characters on the show to enjoy it. So long as you have a general familiarity with Harley, Joker, Batman and Gotham City in general, then you're good to go.
What the animated series does really well is that it brings in so many comic book characters and adds its own unique spin on their backstories and characteristics. So even when you think you know a character from previous iterations, Harley Quinn provides a fun and exhilarating take on already established characters, which is typically hard to do.
Harley Quinn Is Raunchy And Unfiltered
Harley Quinn takes the R-rating and really runs with it. F-bombs, gore, raunchy jokes, sex, and an alcoholic Jim Gordon are all scattered throughout the animated series. The show also makes fun of itself and manages to spoof "Snyder Cut" fans without breaking a sweat. Season 2 even includes an ice vagina, a character eating his brother and Harley biting off the Penguin's nose. Yes, really. Nothing on this show is off limits.
Admittedly, it takes Harley Quinn an episode or two in Season 1 to strike a good balance between its wild moments, off-kilter jokes and story. However, once the animated series establishes its tone, that's when it really gets going, pushing the envelope regarding what it can get away with, all while telling a pretty entertaining story.
Harley And Poison Ivy's Relationship
You could say that Poison Ivy is Harley Quinn's number one fan. Not in the creepy, abusive way that the Joker adores Harley, but in a supportive, "I've got your back" kind of way. The love here runs deep. In Harley Quinn Season 1, Ivy immediately befriended Harley after she was thrown into Arkham and subsequently abandoned by The Joker.
After breaking out of Arkham, the pair became inseparable, forging an unbreakable bond that has become the heart of the animated series in every way imaginable. Through thick and thin, good and bad (and there's a lot of bad), Ivy and Harley are the very example of what a ride or die friendship looks like. In Harley Quinn Season 2, their relationship is explored even further, and let's just say that the evolution of their dynamic is immensely satisfying and well worth the watch.
The Supporting Characters And Villains Are Multidimensional
Every great series must always have a handful of supporting characters and villains who are as memorable as the main character. Harley Quinn boasts a plethora of fantastic side characters who are rudimentary to the animated series and quite often have their own backstories and goals. For instance, there's King Shark, the anthropomorphic sea animal who fights alongside Harley.
King Shark is typically portrayed as a supervillain, but he's a kindred spirit in Harley Quinn and even has his own family drama to contend with in Season 2. Clayface is charming and quite theatrical, taking on various roles to get intel and often getting a bit too caught up in playing different characters. Then, of course, there's Bane, who is one of the funnier villains on the show and is constantly irritated because he doesn't get enough respect from his villainous peers like Two-Face or Scarecrow.
There's A Great Mix Of Comedy And Action
Harley Quinn doesn't take itself seriously at all. The result is a series that is chock full of memorable adventures, great fight sequences and plenty of laugh-out-loud humor. I'm not kidding when I say the chuckling never stops. In Season 1, Harley and Ivy fight their way through police and other villains at Arkham, all while comically discussing how shitty of a boyfriend Joker has been.
In Season 2, Harley tries her hand at comedy in a talent show to incite a riot and fails miserably. Harley, Ivy and Catwoman even try to infiltrate Themyscira (Wonder Woman's home) for a bachelorette party. Naturally, chaos ensues. These are just a few shining examples of the mixture of comedic and action-packed plots throughout Harley Quinn. The rest are worth checking out for yourself.
The first two seasons of Harley Quinn are now available to stream on HBO Max. The animated series is also available to watch on DC Universe. There's no word yet on whether it'll be renewed for Season 3, but stay tuned to CinemaBlend for updates. In the meantime, be sure to check out our 2020 fall TV premiere guide for more on what to watch.
Your Daily Blend of Entertainment News