Why Netflix's Emily In Paris Is Getting Slammed By French Critics And Viewers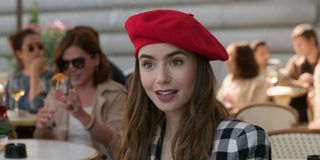 Emily in Paris is one of the latest Netflix originals to premiere and it has made quite a name for itself already. The series stars Lily Collins as Emily, a Chicago marketing exec who's hired to work at a Parisian firm to boost their social media presence. However, Emily in Paris is getting slammed by French critics and viewers who are notably displeased with the series' outdated stereotypes.
The Netflix series is certainly not the first example of an American character landing in Paris. Devil Wears Prada, Gossip Girl, Sex and the City (which Emily in Paris' Darren Star also created), and The Marvelous Mrs. Maisel are among the projects that have been set in Paris (at least temporarily). Speaking to the New York Times, real-life Parisians blasted the clichés littered throughout Emily in Paris — from smoking indoors to walking naked across the Alexandre III bridge.
The latter is something Emily found to be sexist in the show, while the fictionalized French apparently did not. However, one real-life Parisian interviewed called it a "parody of the nudity" used in campaigns from decades ago and is no longer reflective of France's modern publicity. Others simply found Emily in Paris to be exaggerated and ridiculous, especially when it came to Emily's wardrobe choices and the fact that she didn't speak a single word of French. However, Emily offered Parisians advice on how to make things better, which her boss didn't like.
Meanwhile, French critics were a bit more brutal in their assessments of the Netflix show. One reviewer on AlloCiné found Emily in Paris to be completely embarrassing and an inaccurate image of Paris, while another (via THR) considered it quite "deplorable" and wondered why French actors even bothered to be in the series. Another reviewer summed up what most Parisians and French critics didn't like about the show. Here's what they wrote:
As one would guess, not all French critics and viewers found Emily in Paris to be bad. One reviewer saw "a lot of humor in the exploitation of clichés" and the collision of Emily's American lifestyle with that of the French. Despite some of the nicer reviews, however, it would seem that the Netflix series received a much more favorable reception from U.S. critics. The show currently has a 77% fresh score on Rotten Tomatoes and the social media response has been generally positive as well.
Emily in Paris Season 1 is currently streaming on Netflix. For more on what to watch in the meantime, be sure to check out our 2020 fall TV premiere schedule.
Your Daily Blend of Entertainment News