Amazing She-Hulk Fan Art Shows Tatiana Maslany As The Incredible Hero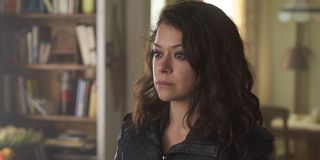 Marvel fans had been awaiting casting news on She-Hulk for some time. So you can imagine how delighted they were when it was revealed that the hero would be played by none other than Orphan Black's Tatiana Maslany. Of course, now, people are wondering what Maslany's gamma-infused superheroine will look like when she appears on screen. Well, an official look at She-Hulk is probably still a ways off, but some incredible fan art has given us a good idea as to what she might look like.
Online visual artist BossLogic has released yet another superhero rendering, this one showing off his interpretation of Tatiana Maslany's She-Hulk. The clean piece of artwork shows the hulked-up Maslany sporting the character's classic costume and striking a powerful pose. Take a look at the Instagram post for yourself down below:
This interpretation of She-Hulk almost looks like it was ripped directly from the pages of a Marvel comic book. Tatiana Maslany's casting was already exciting enough, but this just gets me even more pumped for the character's Marvel Cinematic Universe debut. Although some may not be sure about the classic costume, I personally think it works quite well within this context.
There are still a number of questions regarding the way She-Hulk will be created. Bruce Banner's Hulk has been a CGI creation throughout his tenure in the franchise, though Jennifer Walter's appearance isn't quite as massive or exaggerated as that of her cousin. So instead of going full CG, there may be a chance she'll be created through a mixture of vfx and practical effects.
Regardless of her actual appearance, Tatiana Maslany has gotten some glowing endorsements from fans and Bruce Banner himself, Mark Ruffalo. When the news of her casting in the Disney+ series first broke, he was one of the first to welcome her to the MCU family. The gesture not only give fans like me a warm and fuzzy feeling, but it also fuels fans hopes that the actor will actually reprise his role for the series.
Specific plot details have yet to be released on the show but, if it's set to follow Jennifer Walter's comic book origins, Bruce Banner will likely be popping in at some point. Since Walters gets her powers through a blood transfusion from Banner, it would only make sense that Ruffalo pops up at some point.
Jennifer Walters has the potential to be one of the most exciting characters in the MCU, and her presence could really shake things up (both figuratively and literally). This fan art could end up being vastly different from what we seen on screen, but it still gives us plenty to think about ahead of the show's debut.
What do you think of the She-Hulk fan art? Let us know in the comments below.
Covering superheroes, sci-fi, comedy, and almost anything else in film and TV. I eat more pizza than the Teenage Mutant Ninja Turtles.
Your Daily Blend of Entertainment News
Thank you for signing up to CinemaBlend. You will receive a verification email shortly.
There was a problem. Please refresh the page and try again.