11 Exciting Original Netflix Shows Premiering In November 2020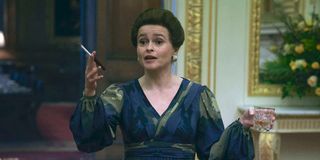 November is a time for turkey, football, and parade floats in New York City. Truth be told, it's hard to say how much of that will be the same in the year 2020, but one thing that won't change is Netflix churning out original content on a monthly basis.
I can't necessarily say there's a ton of Thanksgiving-themed content on Netflix this November, but as is the tradition, there is some Christmas content debuting well before December. Honestly, with the way this year has gone, I'm okay with the holiday season having an earlier arrival, and I'm certainly interested in some of the shows coming to the platform this month, which will keep me occupied as the days get cooler.
Dash & Lily - 11/10
Looking for that perfect holiday-themed romantic comedy to get you in the mood for romance as winter approaches? Dash & Lily seems like just the ticket, as the cynical Dash and optimistic Lily exchange a notebook and learn more about each other all across New York City. If this all sounds familiar, it's because it's based on the Young Adult novel Dash & Lily's Book Of Dares. Something tells me this will be the new hotness amongst the younger crowd heading into the Thanksgiving season, so maybe hip aunts and uncles can check it out to be in the loop.
A Queen Is Born - 11/11
Netflix is highlighting drag queens and those destined to drag in a new Brazilian original series arriving on the platform in mid-November. A Queen Is Born follows Gloria Groove and Alexia Twister as they help six others realize their dream to take the stage in style. This makeover show certainly looks vibrant and full of energy, but will this foreign entry be able to share a stage with the current drag shows on American television? I guess it doesn't need to be a competition, though the trailer does make it look like this show could be a big hit.
The Minions Of Midas - 11/13
How far would you go to protect your legacy? This is the question of this upcoming limited series in which a millionaire publisher is blackmailed for his fortune. Every time he refuses to comply with what is being asked, the organization blackmailing him kills a complete stranger. This Spanish drama is based on a Jack London story, and based on the footage I've seen, looks to have a decent-sized budget behind it. It certainly looks like an entry anyone looking for a good thrill will want to check out, especially as other dramas are still in the process of coming back to television.
The Crown (Season 4) - 11/15
Olivia Colman is back as Elizabeth II in Season 4 of The Crown, which will introduce even more key figures in the royal family. Namely, Emma Corrin joins the series as Lady Diana Spencer, in a season that follows the period of time between 1977 to 1990. There's some pretty intriguing stuff in that era, including the famous incident in which Michael Fagan broke into the palace and entered the Queen's bedroom in the middle of the night. For those who love the royal family, this one is a no brainer to watch.
The Boss Baby: Back In Business (Season 4) - 11/17
In case you haven't been keeping up with The Boss Baby: Back In Business for the past three seasons, Boss Baby has only just now become the boss! He has a plan to achieve "total baby love," but it sounds like some foes are prepared to stand in his way. Who says kids' shows are light on character arcs and meaningful story development? Also, with another movie on the way, now may be a good time to get the kids invested again.
We Are The Champions - 11/17
Do you have a real niche hobby that requires a lot of skill and determination to be good at? If not, you may be able to find one while watching We Are The Champions, which highlights the impressive but obscure talent competitions of the world. Examples of topics highlighted include professional frog jumping, fantasy hairstyling, and one that I might as well be a part of during the fall season: competitive chili eating. This is definitely that random show I'd binge over the course of a weekend, and then occasionally bring it up for years to come in random conversations.
Holiday Home Makeover With Mr. Christmas - 11/18
This holiday season may be a bit of a downer for various reasons, though Mr. Christmas may give Netflix subscribers something to smile about. This show is about enjoying the holiday season, doing crafts to enhance the holiday look of your home, and creating new traditions that can be passed on to other family and friends. This all sounds like stuff I'd love to get into well ahead of December, so I'm excited to see what ideas and crafts appear on this show.
Voices Of Fire - 11/20
Bishop Ezekiel Williams, the uncle of Pharrell Williams, sets out to create one of the world's best gospel choirs in Voices of Fire. This docuseries chronicles his journey through Hampton Roads, Virginia, as he looks to craft a choir that is not only talented but diverse both in age and ethnicity. It's Pharrell and music, so I expect the end result to be good, and I'm assuming wholesome if this is a show about finding a gospel choir.
Sugar Rush Christmas Season 2 - 11/27
My personal favorite Netflix cooking competition show is back in November, and it's going to be another holiday-themed season! Sugar Rush Christmas is all the fun of cupcake and cake making Sugar Rush, but with a little holiday cheer injected right into its very DNA. I guarantee I won't be able to make any of the desserts shown this season, but that's fine because the last thing I need is to pack on even more weight this holiday season than I have during 2020 lockdowns.
Virgin River (Season 2) - 11/27
Mel Monroe is back in Virgin River, and it sounds like she's right in the middle of a lot of drama. Engagement, children, and breakups all seem par for the course for small-town America, but murder? Sounds like things are really popping off in this drama, and early November may be as good a time as any to binge or re-binge Season 1 just to catch up on this Netflix original.
The Uncanny Counter - 11/28
It's not often I highlight Korean dramas on these lists, but this one is just so bizarre that I had to. The Uncanny Counter follows Counters, or as we may know them stateside, "demon hunters." These demon hunters are working in a noodle shop, all in an effort to catch supernatural spirits hoping to find eternal life. It sounds absolutely bonkers for a live-action series, but I guess so does a show like The Good Place. Either way, I think I'm going to check this one out if only to see if it's as cool as it sounds.
See all these originals as well as some other stuff headed to Netflix (opens in new tab) in November 2020. As always, continue to stick with CinemaBlend for all the latest happening in television and movie news.
Your Daily Blend of Entertainment News
Mick likes good television, but also reality television. He grew up on Star Wars, DC, Marvel, and pro wrestling and loves to discuss and dissect most of it. He's been writing online for over a decade and never dreamed he'd be in the position he is today.
Your Daily Blend of Entertainment News
Thank you for signing up to CinemaBlend. You will receive a verification email shortly.
There was a problem. Please refresh the page and try again.