Daily Show Vet Jon Stewart Is Heading To Streaming For A New TV Show And More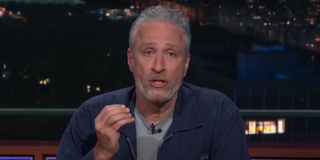 Jon Stewart hosted Comedy Central's The Daily Show for 16 years before leaving the series in the capable hands of Trevor Noah in 2015. After a several-year absence from hosting and television in general, Stewart is returning to anchor a new TV show for Apple TV+, his first with the streaming service as part of a multiyear deal.
The untitled Apple TV+ series will see Jon Stewart focusing on current affairs, tackling individual subjects in hour-long episodes. Stewart will executive produce the series through his company Busboy Productions alongside manager James Dixon and former HBO chief Richard Plepler.
Jon Stewart's new series won't air weekly or daily and is more likely to follow The Oprah Conversation (also an Apple TV+ series) and its free-flowing format — as in, the show won't have any distinct release date schedule (at least as far as we know so far). That said, the untitled series has already been picked up for multiple seasons despite it not being expected to premiere until next year.
It sounds like the folks at Apple TV+ have a lot of confidence in Jon Stewart and his abilities. I don't think that's surprising considering that The Daily Show alum has already proven himself a strong voice in the sphere of political commentary and satire. Stewart's run on The Daily Show nabbed him multiple Emmy Award wins and plenty of acclaim.
In addition to Jon Stewart's current affairs series, the writer and producer has signed a first-look deal with Apple TV+ that will see him developing and producing other projects at the streaming service. The untitled series is also expected to have an accompanying podcast. I think it's clear that there is a lot of investment on the part of Apple TV+ and I have no doubt that signing Stewart is a huge deal that could potentially bring them to the forefront of streaming conversations moving forward.
In the years since he left The Daily Show, Jon Stewart has gone on to produce and direct politically-charged films like Rosewater and Irresistible, which starred The Morning Show and The Office vet Steve Carell. He has also made appearances on The Late Show with Stephen Colbert and, most recently, John Krasinki's Some Good News. Still, the untitled Apple TV+ series will mark his return to television in a full-time capacity.
Meanwhile, The Daily Show is still making waves over on Comedy Central. There was some concern that the beloved and long-running variety show was being cancelled following Comedy Central's axing of Drunk History and Tosh.0 in a pivot to focus on more adult animated series instead. Luckily, The Daily Show remains as a centerpiece of the cable channel.
Jon Stewart's new series does not yet have a scheduled premiere date for Apple TV+, but stay tuned to CinemaBlend for all the latest updates. In the meantime, be sure to check out our 2020 fall TV premiere guide for more on what to watch.
Up next: Jon Stewart Explains The Ending Of Irresistible
Your Daily Blend of Entertainment News