Derek Hough Critiquing On Dancing With The Stars While Wearing Eyeliner Is A Mood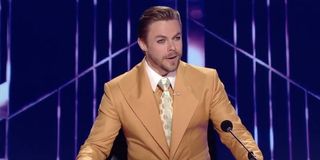 Minor spoilers ahead for the Dancing with the Stars Season 29 episode "Icon Night."
Dancing with the Stars is barreling toward its semi-final rounds, and the competitors upped the ante with their latest dances, which wowed (and sometimes disappointed) the judges throughout the episode. Considering it was "Icon Night," everyone was decked out in elaborate costumes and makeup. However, Derek Hough's critiques and comments were overshadowed by his intense eyeliner, and it's a look that fans have been talking about with glee on social media.
Derek Hough has been a staple of Dancing with the Stars since Season 5 when he first competed as a pro dancer alongside Jennie Garth. Now in Season 29, Hough replaced longtime judge Len Goodman, who wasn't able to travel back to L.A. from the UK due to the global pandemic, and he's been doing a pretty good job so far by offering fairly balanced critiques. During "Icon Night," Hough channeled David Bowie and threw on a heavy dose of eyeliner, which had viewers getting quite distracted on Twitter (including our very own Laura Hurley).
I think Derek Hough wore the eyeliner pretty well and it made his eyes really pop, in my humble opinion. It isn't the first time Hough has ever worn eyeliner on Dancing with the Stars (he put it on during Season 7), but it is the longest we've probably seen him wear it in such abundance. One fan in particular was very enthusiastic about the new look.
Suffice it to say that not every Dancing with the Stars fan appreciated Derek Hough's eyeliner, and the one below didn't feel the need to over-indulge with words about their distaste.
Some fans were actually confused as to why Derek Hough was wearing eyeliner at all. I guess they missed the memo, but others were quick to explain that Hough was indeed supposed to be the late David Bowie. Meanwhile, another fan revealed the eyeliner distraction was definitely real.
The general consensus on Derek Hough's eyeliner is pretty mixed. Some thought it was great, while others believed the eyeliner pulled focus from what he was saying. (I was more distracted by his very yellow suit.) One fan, however, admitted that Hough's eyeliner game is something even they couldn't pull off.
All that said, it's clear that Derek Hough's eyeliner drove a lot of the conversation for "Icon Night," be it for better or worse. Elsewhere in the Dancing with the Stars episode, the Backstreet Boys' AJ McClean and figure skater Johnny Weir landed in the bottom two and the judges made the tough call to save Weir ahead of next week's semi-finals.
The Dancing with the Stars semi-finals air next Monday, November 16 at 8:00 p.m. ET on ABC. For more on what to watch, be sure to check out our 2020 fall TV premiere guide.
Your Daily Blend of Entertainment News
Thank you for signing up to CinemaBlend. You will receive a verification email shortly.
There was a problem. Please refresh the page and try again.