Daisy Ridley Has Weighed In On The Gross Baby Yoda Moment Debate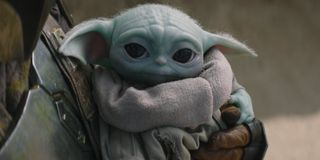 The Mandalorian has added so much to the Star Wars mythos, but the crowning jewel of its achievements would have to be the introduction of The Child a.k.a. Baby Yoda. The impossibly adorable infant has worked his way into the hearts of hardcore fans and casual viewers alike and continues to do so in the show's second season. However, fans are slowly realizing that the Force-sensitive toddler has a ravenous appetite, which even led him to eat Frog Lady's eggs in a recent episode. Fans and members of the Star Wars team have shared thoughts on the matter and, now, Daisy Ridley has chimed in on the matter.
Although she isn't appearing in any Star Wars projects at the moment, Daisy Ridley seems to be enjoying The Mandalorian, especially Baby Yoda. So when asked how she felt about Baby Yoda gobbling up eggs and the humorous attempts to "cancel" the character, she gave an honest – and delightful – response:
Well, you can't be more direct than that. The episode in question, "Chapter 10: The Passenger," saw Mando escorting the character now known as Frog Lady to the moon of Trask to reunite with her husband. Once there, her mate would be able to fertilize her eggs, which she was carrying with her in a tank. And it was during this time that Baby Yoda began to eat them like Tic Tacs. But by the next episode, Frog Lady makes it to Trask and reunites with her mate – eggs and all.
During her recent interview with IGN, Daisy Ridley expanded on the point even further, saying that Baby Yoda just did what came naturally. She also looked towards the bright side of the situation, which is that Frog Lady made it home with most of the eggs:
As episodes go by, it's getting more difficult to deny just how strong Baby Yoda's hunger is. In the first season, we notably saw him eat a whole frog, which honestly should have been an indicator. Now, we've seen him eat frog eggs, unborn spider and soup, among other things. At the rate he's going, one can only imagine what's going to go into his mouth next.
The fact that Baby Yoda is so hungry does make sense, though, as he is a growing boy… at least, we think he's growing. And seeing the reactions from fans and Star Wars alums like Daisy Ridley has been pure fun. Let's just hope that as the season goes on, Mando is able to regulate The Child's diet a bit more. After all, we don't want him getting a stomach ache.
You can watch new episodes of The Mandalorian when they premiere on Fridays on Disney+.
Your Daily Blend of Entertainment News
Covering superheroes, sci-fi, comedy, and almost anything else in film and TV. I eat more pizza than the Teenage Mutant Ninja Turtles.