What The Desperate Housewives Cast Is Doing Now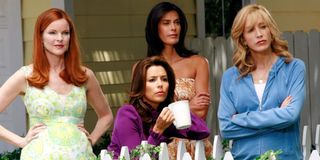 A sexy and scandalous combination of cul-de-sac comedy, soap opera theatrics, and burning mystery, it's easy to see why Desperate Housewives was one of the most popular shows of the '00s. Featuring a strong cast of award-nominated/winning actresses, including Teri Hatcher, Felicity Huffman, Eva Longoria, Nicollette Sheridan, and Vanessa Williams, creator Marc Cherry's mischievous and often funny look at misbehaving suburbanite housewives was an enjoyably naughty series for its eight-season run, eventually becoming the longest-running hour-long TV series featuring all-women leads. But after calling it quits in 2012, what has the Desperate Housewives cast been working on? Let's find out.
Teri Hatcher (Susan Mayer)
In the role of Susan Mayer, a divorced children's book illustrator who's known to be a bit of a klutz, Teri Hatcher played the lead in Desperate Housewives. Before she adopted this character, Hatcher was best known for her portrayal as Lois Lane in ABC's Lois & Clark: The New Adventures of Superman. She also starred in Tomorrow Never Dies, Soapdish, Spy Kids, Tango & Cash, 2 Days in the Valley, Straight Talk, and Heaven's Prisoners. Additionally, Hatcher did voice work for Coraline, and she is the author of Burnt Toast And Other Philosophies Of Life.
Following Desperate Housewives' run, Teri Hatcher did voice work for Planes and Planes: Fire and Rescue. She also had recurring roles in The Odd Couple, Jane by Design, and Supergirl. And she can be seen in Madness in the Method. Notably, in 2018, Hatcher debuted a YouTube channel called Hatching Change.
Felicity Huffman (Lynette Scavo)
As Lynette Scavo, a neurotic neighbor on the verge of a breakdown, Felicity Huffman won an Emmy Award, among other accolades, for playing this controlling character in Desperate Housewives. Huffman is also known for Sports Night and American Crime, as well as Transamerica, for which she was Oscar-nominated, Reversal of Fortune, The Spanish Prisoner, Georgia Rule, Magnolia, Phoebe in Wonderland, Christmas with the Kranks, and Cake. Additionally, she was seen in Netflix's When They See Us and Starz's Get Shorty. She recently starred in two new films, Otherhood and Tammy's Always Dying, both of which she produced.
Last year, Felicity Huffman gained nationwide attention for her involvement in a college entrance exam cheating scandal, where she was charged with conspiracy to mail fraud and honest services mail fraud. She later pleaded guilty to federal charges for paying $15,000 to have a proctor correct incorrect answers on her daughter's SAT. She spent fourteen days in prison. After keeping a low public profile, Huffman recently landed her latest major role with an untitled ABC baseball drama.
Marcia Cross (Bree Van de Kamp)
Playing the part of Bree Van de Kamp, Wisteria Lane's perfectionist homemaker with a less-than-sturdy home life, Marcia Cross had quite an emotional arc on Desperate Housewives. Prior to this Emmy-nominated performance, Cross starred in Melrose Place and Everwood and appeared in The Edge of Night, One Life to Live, Another World, Knots Landing, Seinfeld, Boy Meets World, Quantum Leap, and Cheers. She can also be seen in Bringing Up Bobby, Bad Influence, Just Peck, and Female Perversions.
Following her time on Wisteria Lane, Marcia Cross had a recurring role in Quantico. Most recently, she starred in The Secret of Karma. Last year, Cross faced a cancer diagnosis, though she's reportedly in remission.
Eva Longoria (Gabrielle Marquez)
In the role of Gabrielle Marquez, a bored housewife caught in a salacious affair with the teenage gardener, Eva Longoria gave a star-making performance in Desperate Housewives. Previously, Longoria starred in The Young and the Restless. Also, during the show's run, the actress was seen in Over Her Dead Body, The Sentinel, and Harsh Times.
After Desperate Housewives, Eva Longoria has split her time in front and behind the camera. She played the lead role and executive produced NBC's short-lived sitcom, Telenovela. She was also an executive producer of Marc Cherry's Devious Maids. Her other television roles include Brooklyn Nine-Nine, Jane the Virgin, Empire, Flipped, and Grand Hotel, where she served as a producer. She also did voice work for Mother Up! — another producing credit. Her other film credits include The Bayton Outlaws, A Dark Truth, In A World..., Lowriders, Overboard, Dog Days, and Dora and the Lost City of Gold. She was also a producer for John Wick and directed episodes of black-ish, Jane the Virgin, The Mick, Grand Hotel, and Devious Maids.
Next, Eva Longoria stars in Sylvie's Love, Unplugging, All-Star Weekend, and the anthology film, Together Now. Also, she'll be heard in The Boss Baby: Family Business. Currently, she's in production on an untitled sci-fi movie from music video director Rich Lee. Additionally, Longoria is attached to produce, direct, and star in the comedy, 24-7.
Nicollette Sheridan (Edie Britt)
Playing the part of Edie Britt, a flirtatious real estate agent, Nicollette Sheridan was a main character on Desperate Housewives for five seasons. When she left the series, it wasn't on the best terms. Previously a fashion model, Sheridan also appeared in Knots Landing, Paper Dolls, The Sure Thing, Noises Off, and Spy Hard, as well as Beverly Hills Ninja, Lucky Chances, The People Next Door, and Virus. During her time on Desperate Housewives, the actress starred in Code Name: The Cleaner. Afterward, she acted in The Christmas Spirit, which she also co-wrote.
Most recently, Nicollette Sheridan was seen in two seasons of Dynasty.
Brenda Strong (Mary Alice Young)
As Mary Alice Young, Desperate Housewives' all-watching narrator after she commits suicide in the pilot, serving as the show's catalyst, Brenda Strong played an observant-yet-elusive character in her Emmy-nominated performance. Prior to this role in this hit series, she starred in Scorch and The Help (2004). The actress also made guest appearances on Seinfeld, Party of Five, Twin Peaks, Star Trek: The Next Generation, Blossom, 7th Heaven, Everwood, and Sports Night. Recently, Strong was seen in TNT's Dallas, and she was a series regular on 13 Reasons Why, where she also directed.
Outside of TV, Brenda Strong starred in films like Starship Troopers and Starship Troopers 2: Hero of the Federation, as well as Red Dragon, Spaceballs, The Craft, and Black Dog. She currently plays a recurring role in Supergirl and she narrates Blood Relatives. Additionally, Strong recently appeared in All Rise. Next, Strong stars in Deported and From Black.
James Denton (Mike Delfino)
In the role of Mike Delfino, the next-door plumber who moves into Wisteria Lane and eventually marries Susan, James Denton plays a central romantic character in Desperate Housewives. Prior to this show, Denton was seen in The Pretender, Threat Matrix, and Philly, as well as Face/Off, Primary Colors, The West Wing, and The Drew Carey Show. Following his time on this program, Denton had a recurring role in Devious Maids, and he was seen in episodes of Reba, Hot in Cleveland, and NCIS: New Orleans. He also starred in films like Grace Unplugged, Group Sex, and Lifetime's Custody. Additionally, he voiced the title character in All-Star Superman.
Currently, James Denton can be seen in Hallmark Channel's Good Witch. He also recently starred in Selfie Dad. Outside of acting, Denton plays guitar in Band from TV.
Ricardo Antonio Chavira (Carlos Solis)
Playing the part of Carlos Solis, an ex-con-turned-counselor and Gabrielle's frustrated husband, Ricardo Antonio Chavira had a prominent male role in Desperate Housewives. He was also seen in Santa Clarita Diet, Welcome to the Family, Monk, Six Feet Under, Jane the Virgin, Kevin Can Wait, and Scandal. Additionally, Chavira appeared in Being Charlie, Piranha 3D, and The Alamo.
Next, Richardo Antonio Chavira stars in Netflix's Selena: The Series, which premiered on December 4th. He'll also star in Reefa and Cosmic Radio.
Doug Savant (Tom Scavo)
In the role of Tom Scavo, Lynette's husband on the cusp of a midlife crisis, Doug Savant played a prominent male character in Desperate Housewives. Outside of this series, Savant is best known for Melrose Place. He also appeared in Knots Landing, Columbo, JAG, According To Jim, 24, CSI, Nip/Tuck, Lucifer, and NCIS: New Orleans. His notable film credits include Teen Wolf, Masquerade, First Daughter, Paint It Black (1989), The One, and 1998's Godzilla.
Earlier this year, Doug Savant appeared in S.W.A.T., L.A.'s Finest, and Dirty John. Next, he'll star in Amazon Prime's upcoming series, Tell Me Your Secrets.
Mark Moses (Paul Young)
As Paul Young, the widower of Mary Alice who finds his life spiraling after his wife's death, Mark Moses played an intense character in Desperate Housewives. During this time, Moses could also be seen in AMC's Mad Men. He also appeared in One Life to Live, as well as Born on the Fourth of July, Platoon, North and South, Gettysburg, Deep Impact, Big Mamma's House 2, Swing Vote, Just in Time, and The Doors.
After Desperate Housewives' tenure, Mark Moses starred in The Killing, Homeland, The Last Ship, and La Reina del Sur. He also had recurring roles in Manhattan, Man Seeking Woman, Law & Order: True Crime, and Salvation. Earlier this year, Moses starred in Fox's Deputy prior to its cancellation. His recent film credits include Cesar Chavez and Bombshell. Next, Moses stars in Modern Persuasion and Follow Her.
Andrea Bowen (Julie Mayer)
In the role of Julie Mayer, Susan's daughter, Andrea Bowen played a concerned character in Desperate Housewives. Previously, Bowen made a splash on Broadway thanks to Les Miserables and The Sound of Music. She also had recurring roles in Boston Public, Law & Order, and That Was Then, and she was heard in Bambi II. Following Desperate Housewives, Bowen did voice work for Percy Jackson: Sea of Monsters, Stoker, and King of the Hill. Also, Bowen appeared in The Secret Life of the American Teenager, Hawaii Five-0, Ghost Whisperer, Without a Trace, and Scandal, and starred in G.B.F.
Recently, Andrea Bowen appeared in Lifetime movies like Girl, Positive, Who Killed My Husband?, and Pretty Little Addict. She also starred in Winter Wedding. Recently, Bowen was seen in August's Psycho Sister-in-Law.
Jesse Metcalfe (John Rowland)
As teenage gardener John Rowland, who has an illicit affair with Gabrielle, Jesse Metcalfe played a key character in Desperate Housewives' early seasons. This performance propelled his career, notably with the titular part in John Tucker Must Die, and main roles in NBC's Chase and TNT's Dallas. Additionally, before Desperate Housewives, Metcalfe starred in NBC's soap opera, Passions.
His other notable film credits include God's Not Dead 2, The Other End of the Line, Beyond a Reasonable Doubt, and Escape Plan 2: Hades. Moreover, Metcalfe recently starred in Christmas Next Door, Christmas Under the Stairs, and A Beautiful Place to Die: A Martha's Vineyard Mystery and Riddled with Deceit: A Martha's Vinyard Mystery. He also produced the latter two. Additionally, he starred in Hard Kill and Cover earlier this year. And he was a contestant on Dancing with the Stars this season.
Currently, Jesse Metcalfe plays the lead role in Hallmark Channel's Chesapeake Shores. Next, he'll star in Ships in the Night: A Martha's Vineyard Mystery and The Latin from Manhattan.
Vanessa Williams (Renee Perry)
Playing the part of Renee Perry, a narcissistic partygoer disenchanted by her lifestyle who moves to Wisteria Lane, Vanessa Williams became a main character for Desperate Housewives' final two seasons. A musician and Miss America contestant prior to acting, she gained acclaim for Soul Food and Ugly Betty, earning three Emmy nominations for the latter. Additionally, Williams starred in South Beach, Mama Mirabelle's Home Movies, Daytime Divas, and 666 Park Avenue. And she acted in The Adventures of Elmo in Grouchland, Shaft (2000), Johnson Family Vacation, and Temptation: Confessions of a Marriage Counselor, as well as Light It Up, Dance With Me, And Then Came Love, Eraser, and Hannah Montana: The Movie.
Currently, Vanessa Williams lends her voice to T.O.T.S. She was also a contestant on this year's RuPaul's Secret Celebrity Drag Race and won. Recently, Williams starred in Hulu's Bad Hair and appeared in Twenties.
Who's your favorite Desperate Housewives character? Let us know in the comments!
Your Daily Blend of Entertainment News
Will is an entertainment writer based in Pittsburgh, PA. His writing can also be found in The Playlist, Cut Print Film, We Got This Covered, The Young Folks, Slate and other outlets. He also co-hosts the weekly film/TV podcast Cinemaholics with Jon Negroni and he likes to think he's a professional Garfield enthusiast.