6 Reasons Why Saved By The Bell's Revival Is A Must-Watch For Fans Of The Original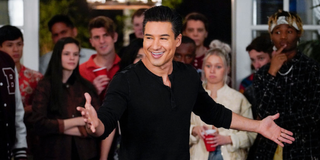 (Image credit: peacock press)
Of all the TV shows from the '80s and '90s that were ripe for reviving in 2020, I cannot say that Saved by the Bell would have been at the top of my list. As much as I obsessed over the original series and the College Years spinoff – I wasn't into The New Class, admittedly – I didn't think the overtly goofy Saturday morning high school comedy would mesh well with self-awareness and other modern comedy tactics. But I will happily admit that I was wrong on all counts, and Peacock's Saved by the Bell revival is better than I ever could have imagined.
Redeveloped for streaming audiences by former 30 Rock and Mindy Project writer and producer Tracey Whigfield, Saved by the Bell is a splendid mix of those aforementioned comedies' clever and quirky humor combined with an updated approach to the topics that the original series covered: school cliques, school events, friendships, romances and "very special episode" topics. I'd even say the new episodes are more hilarious than anything else in this franchise, but let's explore the reasons why the new Saved by the Bell is a must-watch experience for old-school fans.
Seeing The O.G. Saved By The Bell Cast Together Again
This is definitely the biggest no-brainer of the bunch, since so many Saved by the Bell fans have been clamoring for a proper reunion ever since Zack and Kelly got married in Vegas. (And yes, that Tonight Show reunion sketch from 2015 only whetted our appetites for more.) Thankfully, the Peacock revival utilizes series regulars Mario Lopez and Elizabeth Berkley in smart ways as Coach A.C. Slater and guidance counselor Jessie Spano, and also makes the most out of recurring returners Mark-Paul Gosselaar as Governor Zack Morris, Tiffany Thiessen as his First Lady, and Lark Voorhies as the living-elsewhere Lisa Turtle. Yes, it's always strange to see teen characters as full-on adults and/or parents, but this is the best possible version of that weirdness, and even seeing Ed Alonzo's Max made everything feel like home.
All The Classic Saved By The Bell References
In 2020, nothing about a callback to a '90s joke referencing a pop song from 1965 (by way of a 1983 Tom Cruise movie) should be successful, but you're damned straight the new Saved by the Bell's "Barbara Ann" dance scene is upper-echelon nostalgia. And that's basically the revival in a nutshell. The ten-episode season is PACKED with verbal and visual nods and easter eggs from the original series, from long-gone characters such as Leanna Creel's Tori Scott and Dustin Diamond's Screech himself, who gets an update tied to his robot Kevin, which ruled. My favorite, though, is Jessie's heightened reactions to anything involving caffeine.
The New Saved By The Bell Teen Cast Members Are A+
Thankfully, Tracey Whigfield and her creative team didn't cast the new Saved by the Bell to match the original character dynamics beat for beat (b-b-b-b, go Bayside!), and embraced a more diverse cast. Haskiri Velazquez's intelligent, inquisitive and non-schemy Daisy is a solid choice to take over Zack's central role, and she shares a rivalrous-yet-amicable friendship with Mitchell Hogg's hyper-privileged Mac Morris, who is a chip off the blonde, egotistical block. Alycia Pascual-Peña provides another grounded character as the tradition-breaking Aisha, with Dexter Darden bringing some sardonic distance as the musical-loving Devante. Rounding out the bunch is transgender actress Josie Totah as the self-obsessed (yet charismatic) reality TV star Lexi Haddad-DeFabrizio and Belmont Cameli as Bayside's football captain Jamie Spano, who may be my favorite absolute dumbass to hit TV in quite a few years. There are no weak links here, even when it comes to the side characters.
John Michael Higgins' Toddman Is A Great Replacement For Mr. Belding
The younger generation isn't the only awesome addition to Saved by the Bell's revival, with the always excellent John Michael Higgins portraying Bayside's principal Ronald Toddman. (His "backstory" arc is worthy of many chef's kisses.) While Dennis Haskins' Mr. Belding was a lovable cornball scapegoat for Zack's schemes, Mr. Toddman is more a victim of his own downward-spiral luck as opposed to being bamboozled by students, though that does happen, too. Arguably best known for his hilarious roles in Christopher Guest's mockumentaries like Best in Show and A Mighty Wind, Higgins is a natural comic actor that can sell completely awkward moments that other actors would falter in, and Mr. Toddman experiences plenty of them.
Diversity And Real-World Issues Are Handled Gracefully And Hilariously
While the original Saved by the Bell featured various PSA-esque episodes about topics like drugs and drunk driving, the Peacock revival far more naturally works topical issues into its storylines without stereotypical schmaltz and melodrama. After all, the basic premise is about a mostly Black student body being forced to transfer to a rich white school, and all of the issues that derive from that (both legitimate and Mac Morris-created). We have Daisy tackling problems regarding school politics and Aisha facing criticisms for joining the football team, and it's a breath of fresh air for Lexi's transition to be part of the plot without making things uncomfortably controversial. Similar to situations concerning mixed-race relationships, Bayside students embrace it all, and Saved by the Bell handles everything appropriate and, when applicable, quite hilariously. (Well maybe not everything, but most things.)
Seeing New Sides Of Classic Saved By The Bell Locations
Out of everything that happened in the new Saved by the Bell episodes, I honestly think I was most shocked by how the Peacock series crafted full sets for the show's iconic locations, such as the main Bayside hallway and The Max. Since multi-cam sitcoms tend to only build sets without the so-called fourth wall, Saved by the Bell fans had no idea what Bayside's front doors looked like or, as seen above, that the back wall of The Max featured a long counter with cushioned stools that further played up its diner aesthetic. Not to mention how weirdly awesome it is to see new exterior shots of Bayside and The Max.
Peacock's reimagined Saved by the Bell revival is currently streaming all ten Season 1 episodes on the service now, so hurry up and watch them all so you can then take your time in rewatching them over and over, just like you did with the original series! In the meantime, head to our Fall 2020 TV premiere schedule and our Winter and Spring 2021 TV guide to see what new and returning shows are on the way.
Your Daily Blend of Entertainment News
Assistant Managing Editor
Nick is a Cajun Country native, and is often asked why he doesn't sound like that's the case. His love for his wife and daughters is almost equaled by his love of gasp-for-breath laughter and gasp-for-breath horror. A lifetime spent in the vicinity of a television screen led to his current dream job, as well as his knowledge of too many TV themes and ad jingles.