NBC Apologizes To Selena Gomez Following Saved By The Bell Joke About Her Kidney Transplant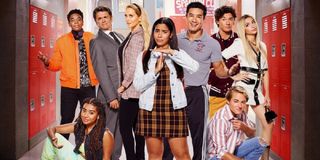 The Saved by the Bell revival offered a huge dose of '90s nostalgia while also introducing a new generation of Bayside High students to a new generation of viewers. The updated NBC sitcom premiered on Peacock last week, and while it got generally positive reviews, Selena Gomez fans were not pleased to discover a visual joke that referenced the singer's 2017 kidney transplant needed to treat her lupus. Following the online criticisms, NBC's Peacock has issued an apology for the joke.
In the sixth episode of the Saved by the Bell revival, the students of Bayside High School had their cell phones confiscated, with the lack of technology meant to be a lesson about the over-dependence on cell phones for everything. Of course, the school and its tech-addicted students are quickly turned upside down in the aftermath. Unable to search for answers online, the students start arguing about who gave Selena Gomez her new kidney: was it Demi Lovato or possibly Justin Bieber's mother? Some student went so far as to spray paint "Does Selena Gomez even have a kidney?" on the wall, as seen below.
The joke sparked negative reactions on Twitter, with a variety of Selena Gomez fans taking issue with the sitcom for poking fun at the singer's disease, which she revealed publicly in 2015. Fans tweeted about the joke so much, in fact, that "#RespectSelenaGomez" trended on the social media platform. The outcry led the powers that be at Peacock to issue the below apology statement (via Deadline):
Though the Saved by the Bell episode featured some dimwitted Bayside students arguing over who donated their kidney to Selena Gomez, actress Francia Raisa has long been confirmed as the singer's actual kidney donor. In fact, Gomez shared a photo to Instagram that saw her and Raisa in adjoining hospital beds at the time of surgery in 2017.
On that note, Francis Raisa was also not pleased about the Saved by the Bell joke. The actress took to Twitter to share her thoughts on the matter following Peacock's issued apology. Here's what she wrote:
It sounds like Francia Raisa not only took offense to the joke, but also threw shade at Peacock for not thinking that she, the donor, also needed to be apologized to. Meanwhile, neither Selena Gomez or her reps have made any official statements about the episode's joke at the time of this writing.
All ten episodes of the Saved by the Bell revival are currently available to stream on Peacock. For more on what to watch, be sure to check out our fall TV guide and our 2021 winter and spring premiere schedule.
Your Daily Blend of Entertainment News
Thank you for signing up to CinemaBlend. You will receive a verification email shortly.
There was a problem. Please refresh the page and try again.