The Most Challenging Scene To Film On Tyler Perry's Ruthless, According to Matt Cadeño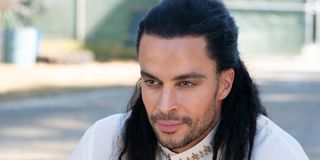 Not only does Tyler Perry work on multiple projects at a time, he also manages to deliver new and exciting complex storylines on each show. BET+ hit Ruthless is particularly complex, as the show focuses on a sex cult. Matt Cadeño, who portrays the cult leader known on the show as The Highest, has revealed which scene was the most challenging to film.
Ruthless contains significant mature content, which is in part due being on the BET+ subscription service as opposed to airing on the BET network. There is a lot to explore in the world of Ruthless, and that includes character development for the actors. Becoming a character who may be polar opposite of what an actor has experienced in real life can be challenging, and Matt Cadeño elaborated on that in an interview with CinemaBlend.
It sounds like navigating that shift from a childhood trauma to being a leader that all of these people look up to and rely on was the most challenging piece to film for Matt Cadeño. As a viewer, the question at the top of my mind from the series premiere was, how did The Highest get here? What led to all of these people following him and does he himself view it as a cult? I was thrilled to learn these questions would be answered in the second half of Season 1.
Matt Cadeño's co-star Melissa L. Williams, who plays cult member Ruth, echoed that excitement. She mentioned that the dynamic between The Highest and Ruth where we learn about his past is something the audience didn't get to see in the first half of Season 1. It sounds like there is going to be a lot of growing both individually and together for these two characters. Matt continued to CinemaBlend,
So there you have it - we have so much to learn from the second part of Season 1, which is now available on BET+. Although these characters are in a setting that many viewers may not have personally experienced, the cast and crew, along with Tyler Perry, have humanized them in a way that is very relatable, while still giving us the drama we've come to know and love.
For more options with Black leads, check out these TV shows and these movies. We are rapidly approaching the end of the year, so CinemaBlend also has you covered on the 2021 winter and spring TV premieres.
Your Daily Blend of Entertainment News
Obsessed with Hamilton and most things Disney. Gets too attached to TV show characters. Loves a good thriller, but will only tolerate so much blood.