Netflix's Selena: The Series Director On Working With The Cast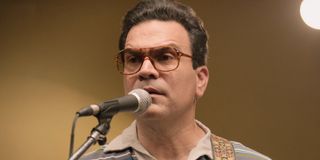 Showcasing the early life and rise to fame of superstar Selena Quintanilla, Netflix's Selena: The Series also gives an inside look at the Mexican-American family. The filmmakers worked with the real Quintanillas to bring their story to life, and director Hiromi Kamata of Japanese and Mexican descent worked with the cast on their breath-taking performances. In an interview with CinemaBlend, Hiromi Kamata opened up about her background, approach to directing and working with the cast of Selena: The Series.
Adapting a true story carries a different kind of pressure than fiction. There is already existing material and facts to guide the story, but filmmakers still have to make it interesting and have the ability to put their own spin on it. I asked Hiromi Kamata how directing this re-telling of a real family's life, and here's what she said:
It sounds a bit overwhelming, but Hiromi Kamata said it was exciting at the same time. The actors were as excited as she was to tell the story and were a great help on set when it came to certain elements of these characters. Here's what Kamata said of working with Ricardo Chavira, in particular, who plays Selena's father Abraham.
While the entire cast of Selena: The Series is incredible, Ricardo Chavira really stands out. Abraham is the one who started the band and got the whole family to be a part of it and turned it into a business that everyone had a role in, and Chavira really portrays every aspect of that process. From the loving father who notices his daughter's talent and wants her to succeed, to the businessman who negotiates recording contracts, to the husband who doesn't want to fail and everything in between, Chavira does it all and the audience feels it all.
Hiroma Kamata loves when actors can bring something extra to the scene, as previously described with Chavira. The set is her playground, and working with her sounds like an actor's dream. She gives ample room to experiment and have fun while getting the job done. Here's what she shared with CinemaBlend of her process:
Hiromi Kamata originally got into directing because her father was a director of photography at a studio in Tokyo. He went to Mexico to shoot a commercial where he met and fell in love with Katama's mother. As a result, Kamata grew up on set, and though her father tried to get her to study law, she realized at a young age that what she really wanted was to direct and make movies.
I'm glad she followed her instincts, because Selena: The Series is incredible, and it's now available on Netflix (opens in new tab) for all to enjoy. We have plenty of Netflix lists for you to make your way through, from sad dramas to thrillers.
Your Daily Blend of Entertainment News
Obsessed with Hamilton and most things Disney. Gets too attached to TV show characters. Loves a good thriller, but will only tolerate so much blood.
Your Daily Blend of Entertainment News
Thank you for signing up to CinemaBlend. You will receive a verification email shortly.
There was a problem. Please refresh the page and try again.