New Hawkeye Set Photos Reveal More Returning MCU Characters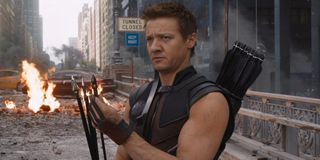 Marvel's Hawkeye has finally started shooting, and fans are getting excited. The Disney+ series is currently filming in New York, and set photos have steadily been making their way across the web. The first batch actually revealed the first look at Hailee Steinfeld in the role of Kate Bishop, and later, Jeremy Renner further confirmed it. We also recently learned that the show has added several new cast members, including Florence Pugh, who will reprise her role as Yelena Belova. Now, a new round of set photos has confirmed the presence of some more returning Marvel Cinematic Universe characters.
Jeremy Renner was recently spotted shooting Hawkeye in New York's Midtown, and the accompanying set photos, which come from the Jeremy Renner Net Twitter account, reveal the return of Clint's children – Cooper, Lila and Nate. While it's unclear if Cooper and Nate are being portrayed by the same actors, it would appear that Lila will once again be played by Ava Russo, the daughter of Marvel director Joe Russo.
The Barton children were originally introduced during the events of Avengers: Age of Ultron, during which Earth's Mightiest Heroes opted to lay low at the Bartons' farm following their fight with Ultron and the Maximoffs. During this time, Clint's wife, Laura, is pregnant with Nate and, by the end of the film, she's revealed to have given birth.
In the opening scene of Avengers: Endgame, Laura and the children are all revealed to have been casualties of Thanos' Snap. Luckily, Bruce Banner manages to bring them back after the Avengers gather the Infinity Stones five years later, and the family is later present at the funeral of Tony Stark.
What's most interesting about these set photos is the fact that Laura is nowhere to be seen, which leads me to wonder about the family's current status. In the photos, Clint seems to be sending the kids on their way with suitcases, and Laura is nowhere to be seen. Could it be possible that Clint and Laura are actually separated during the events of the series?
If you're like me, one of the biggest questions you probably had coming out of Avengers: Endgame pertained to how Clint was going to explain his five-year, murder spree to his resurrected wife. It's possible that Laura couldn't bear to live with him after that and asked for some space. This could also be the reason for Clint's relocation to New York, as he may be looking for a fresh start. This is all conjecture at this point, but it's certainly something to think about.
All in all, it's cool that we will get to see a bit more of Clint Barton's family, which will allow viewers to see a gentler side of the veteran archer. And hopefully, we'll get an appearance from Linda Cardellini's Laura as well.
Keep it here at CinemaBlend for more updates on Hawkeye and Disney+'s other MCU shows as well as more news from the world of TV and movies.
Covering superheroes, sci-fi, comedy, and almost anything else in film and TV. I eat more pizza than the Teenage Mutant Ninja Turtles.
Your Daily Blend of Entertainment News
Thank you for signing up to CinemaBlend. You will receive a verification email shortly.
There was a problem. Please refresh the page and try again.