Why The Voice's Ben Allen Took A 'Risk' To Serenade Gwen Stefani With Blake Shelton Cover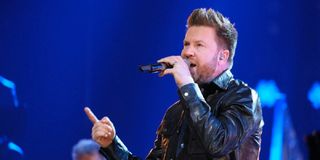 The Voice Season 19 has approached the semifinalist stage in the competition, and recent episodes are seeing contestants bringing their A-game to various numbers — be it solo or face-off performances. In particular, Ben Allen went all in on Monday night's episode of The Voice Season 19, choosing to sing one of Blake Shelton's songs. It was quite a crowd-pleaser, and Allen revealed why he decided to take a big "risk" with using that song to serenade Gwen Stefani.
Ben Allen was in a strange predicament, since the singer was previously on Blake Shelton's team before officially moving to Gwen Stefani's team. Considering the switcheroo, Allen took a gamble and chose to sing Shelton's "All About Tonight." Prior to his performance, Stefani told the contestant to turn up the dial on his personality, and her advice obviously paid off. Allen's performance had Shelton smiling and The Voice contestant even wooed Stefani a bit while singing a line from the song. So why did Allen choose to sing Shelton's track? Here's what he told Give Me My Remote:
That's incredibly sweet! I can understand why it was a scary decision to make, but Ben Allen's performance was pretty great and I think it all worked out for the best in this situation. By singing Blake Shelton's song while on Gwen Stefani's team, Allen really did pay tribute to both singers.
"All About Tonight" even got Kelly Clarkson up out of her coach's chair to sing and clap along to Ben Allen's performance. The Season 19 hopeful added that he wanted nothing more than to bring a bit of fun to The Voice since it's been hard to find a lot of joy in 2020. I can't speak for everyone else, but I think Allen certainly brought a party vibe to his performance and it showed. You can watch (or rewatch) Allen's full performance below!
In addition to his solo performance, Ben Allen also sang "Tulsa Time" in a face/off with Team Blake Shelton's Ian Flanigan and Team John Legend's Tamara Jade. That was a fun one because it got to show off Allen's skills alongside two other performers. I'll be interested to see if Allen makes it through to the next round.
New episodes of The Voice Season 19 air on Monday and Tuesday nights at 8:00 p.m. ET on NBC. For more on what to watch in the coming months, be sure to check out our 2021 winter and spring TV premiere schedule.
Your Daily Blend of Entertainment News
Your Daily Blend of Entertainment News
Thank you for signing up to CinemaBlend. You will receive a verification email shortly.
There was a problem. Please refresh the page and try again.