Dave Bautista And 9 Other WWE Superstars Who Actually Retired And Stayed That Way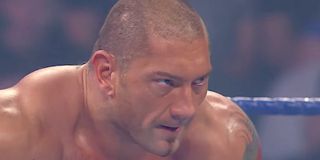 In this day and age, it's rare to see a WWE superstar hang up his or her boots and stay retired, especially after seeing everyone from Edge to Daniel Bryan do that very thing in recent years after stepping away due to health concerns. And with the recent announcement that The Undertaker was calling it a day after 30 years in a WWE ring, I started to think about the wrestlers who STAYED retired after saying their time had come and they were exiting the ring for the final time.
Coming up with a list of wrestlers who have announced their retirement stayed true to their word surprisingly took a fair amount of time to put together, but the names that did came up are worth mentioning. From the likes of Dave "Batista" Bautista to "Stone Cold" Steve Austin to The Iron Sheik, here are a few of the most popular WWE superstars who actually retired and stayed retired.
Dave 'Batista' Bautista - 2019
To most of the world, Dave Bautista is best known for his portrayal of Drax in Guardians of the Galaxy and other movies in the Marvel Cinematic Universe, but before the Hollywood action star found success on the big screen, he had multiple monster runs in WWE as Batista. "The Animal" as he was called during his wrestling days, debuted with WWE in 2002 but really found his footing the following year when he joined the "Evolution" faction alongside Ric Flair, Randy Orton, and Triple H, the man he would face in his final match at WrestleMania 35 in April 2019. One day after losing a heated match against his former stablemate, Bautista hung up his boots for good and committed himself fully to movies.
'Stone Cold' Steve Austin - 2003
There is no getting around it, "Stone Cold" Steve Austin is one of the most popular and successful wrestlers of all time and carried WWE (then WWF) on his shoulders during the height of the Attitude Era, even if it meant he had to work through some severe injuries during that time. The wear and tear of years on the road and in the ring caught up with the "Texas Rattlesnake" in the early 2000s and Austin decided to call it quits and hang up trademark boots and vest following his loss to longtime rival Dwayne "The Rock" Johnson at WrestleMania 19 in March 2003. And while Austin has come back time and time again for appearances (both physical and non-physical), he still has not wrestled a match since that night in Seattle.
'Macho Man' Randy Savage - 2004
In terms of continued success over an extended period of time, there are few that hold a candle to the greatness that was the late "Macho Man" Randy Savage. By the time Savage joined WWF in 1985, he was already an established star having wrested all over the world before joining up with Vince McMahon. The former WWF Champion, Intercontinental Champion, and WCW World Heavyweight Champion remained a fixture of the wrestling world up until WWF's purchase of WCW in 2001 at which time the Macho Man took a four-year break from the ring. He would return in a short-lived part-time role for rival promotion TNA Wrestling in 2004, but quickly left and called it quits. Sadly, Savage passed away in early 2011.
Bruno Sammartino - 1987
Back when WWE was still called the World Wide Wrestling Federation (WWWF) and led by Vince McMahon Sr., there was one wrestler who was a bigger name, draw, and champion than Bruno Sammartino. Over the course of his two reigns as WWWF Champion, Sammartino held the belt for more than 11 years, with one of those reigns lasting a historic 2,803 days. "The Italian Strongman" would end up retiring in 1987 after nearly 30 years in the industry, and unlike a lot of those who came after him, Sammartino remained retired until his death at the age of 82 in April 2018.
Stacy Kiebler - 2006
Although known more for her role as a manager and a valet in WCW an then WWE, former Dancing with the Stars contestant Stacy Keibler had a short-lived in-ring run in the wrestling industry before she stepped away from the profession to pursue other opportunities in 2006. Whether it be working with the Dudley Boyz, The Hurricane and Rosey, or Scott Steiner, Kiebler remained one of the most prominent figures in WWE in the early 2000s. She last appeared on WWE programming in April 2019, when she inducted Torrie Wilson into the WWE Hall of Fame.
CM Punk - 2014
Former WWE Champion CM Punk was on top of the world when he shocked wrestling fans with his sudden departure WWE following the 2014 Royal Rumble. Those watching at the time will remember how "CM Punk" chants filled the air at every Monday Night Raw, Friday Night Smackdown, and pay-per-view event for months before finally dying down. Punk seemed to confirm that not only was he done with WWE, he was finished with wrestling in May 2014 when he said it felt good to retire at 35 years old. He wouldn't stay out of action sports for too long, however, as CM Punk has fought, and lost, two bouts in UFC since leaving the squared circle.
AJ Lee - 2015
During the time of "Divas" in WWE, there was some counter-programming in the form of AJ Lee, the multi-time WWE Divas Champion who walked all over the competition during her brief yet monumental run with the company. The real-life wife of CM Punk who would stick around for about a year after he husband's departure, and eventually retired from professional wrestling in April 2015. She has since turned her focus to a writing career in place of wrestling day-in and day-out.
The Iron Sheik - 2010
The Iron Sheik is probably better known for his insane Twitter account these days, but back in his prime, the Iranian heel was one of the most fearsome and formidable villains in the WWF. A one-time WWE Champion and WWF Tag Team Champion, The Iron Sheik provided for some of the best matches in the early days of Hulkamania and even lost the belt to the rising Hulk Hogan in the mid-1980s. He would stick around the company for a number of years, and even win the Gimmick Battle Royal at WrestleMania 17 in April 2001 and eventually call it quits for good in 2010.
Ron Simmons - 2010
One of the most dominant wrestlers of his time, and the first African-American WCW Champion, Ron Simmons' career is one of many chapters, with each being more successful than the last. Known as Faarooq for much of his time in WWE, Simmons was the leader of the Nation of Domination stable that gave The Rock a place to shine in his early days and then formed a tag team with John Bradshaw Layfield known as The Acolytes before becoming The APA (Acolytes Protection Agency). Simmons started to step away from the ring in the early 2000s and eventually officially retired in 2010.
John Bradshaw Layfield - 2009
Ron Simmons' long-time tag-team partner (and partner in crime) John Bradshaw Layfield (JBL) continued wrestling and even had a successful singles run following the departure of his old friend, but time caught up with him and he called it quits following a shocking loss at WrestleMania 25 in 2009. JBL spent a substantial amount of time as a WWE commentator following his retirement, but stepped away from that in 2017. The former WWE Champion continues to work with WWE, however, and last appeared at The Undertaker's retirement special in November 2020.
Those are just 10 former WWE superstars who retired from professional wrestling and actually stayed retired. I intended on including Sting on this list especially after sustaining a career-ending injury in 2015, but the 61-year-old former WCW icon shocked the world in early December 2020 and debuted on WWE-competitor AEW for one final run.
Your Daily Blend of Entertainment News
Philip grew up in Louisiana (not New Orleans) before moving to St. Louis after graduating from Louisiana State University-Shreveport. When he's not writing about movies or television, Philip can be found being chased by his three kids, telling his dogs to stop barking at the mailman, or yelling about professional wrestling to his wife. If the stars properly align, he will talk about For Love Of The Game being the best baseball movie of all time.