Hispanic Heritage Month: Looking Back At The Most Influential Hispanic WWE Superstars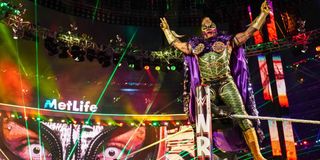 Throughout the long and storied history of professional wrestling, there have been names like Eddie Guerrero, Mil Máscaras, and Rey Mysterio who have changed the face and perception of the sport with their charismatic personalities and unparalleled skills in the ring. These Hispanic wrestlers, and the countless others that came before and since have all left their mark in promotions like CMLL, AAA, WCW, and most notably, WWE.
So, with us being in the middle of Hispanic Heritage Month, there's never been a better time to look at some of the most influential Hispanic wrestlers who have laced up their boots (and masks for several of them), stepped into the squared circle, and inspired scores of aspiring wrestlers and millions of fans around the world. What follows is a list of the accomplishments, heritage, and impact of some of the most beloved Hispanic wrestlers.
Eddie Guerrero (Eduardo Gory Guerrero Llanes)
Eddie Guerrero was going to be a professional wrestler at some point in his life whether he liked it or not, considering he is the youngest son of Mexican American wrestling legend Gory Guerrero, patriarch of the famed Guerrero family. Born in El Paso, Texas, Eddie Guerrero, who would go on to use the gimmick of "Latino Heat," was part of some of the most memorable matches wherever he wrestled, which was in promotions in Japan, Mexico, and his native America where he would rise in the ranks of WCW before moving to WWE (then WWF) in 2000.
Following a period of ups and downs both in and out of the ring, Eddie Guerrero was on the up and up by the time he won his first and only WWE Championship in 2004 and successfully defended it at WrestleMania 20 in the iconic Madison Square Garden. Guerrero died a little more than 18 months after capturing the gold but his impact is still felt today, 15 years after his tragic death. You can see it in recent stars like Andrade as well as former Women's Champion Sasha Banks, who grew up obsessed with the wrestler who would "Lie, Cheat, and Steal" his way into the hearts of millions of adoring fans.
Rey Mysterio (Óscar Gutiérrez)
Rey Mysterio was born and raised in just outside of San Diego, California, but his journey to the top of the world of professional wrestling started in Mexico, where he was trained in the lucha libre style by his uncle, Rey Mysterio Sr. It didn't matter where Mysterio's career took him, he was consistently one of the most athletic performers and fan favorites, but he didn't become the household name he is today until he signed with WWE in 2002.
Since signing with WWE, Rey Mysterio has gone from a cruiserweight to winning the World Heavyweight Championship at WrestleMania 22, proving that size doesn't matter. Mysterio has inspired arenas full of young children to believe in their heroes and countless wrestlers to follow their dreams, including his son Dominik, who is now continuing the Mysterio legacy.
Tito Santana (Merced Solis)
Ask anyone to name some of the most prolific stars of the Rock 'n Wrestling Connection era of WWE (then-WWF) and the name Tito Santana will surely come up. Born and raised in Mission, Texas, the Mexican-American superstar has been wrestling since 1977 and stepped into the ring as recently as 2019. And Santana's list of accomplishments during that time is nothing to shrug off.
Not only does Tito Santana have the distinction of winning the first match at the first WrestleMania in 1985, but he is also a two-time Intercontinental Champion, becoming the first Mexican-American wrestler to win one of the sport's most prestigious titles. Santana's accomplishments go beyond the ring, however, as he has made it his mission in life to help at-risk students at a middle school in New Jersey, where he has taught Spanish and coached the basketball team for nearly 20 years.
AJ Lee (April Mendez)
The women's division in WWE used to be filled with wrestlers who were picked more for their looks than their in-ring ability and then came AJ Lee. Born and raised by parents of Puerto Rican descent, Lee quickly became one of the brightest stars in WWE, winning the Diva's Championship three times and being front and center in major storylines with the likes of John Cena and her future husband CM Punk.
And although AJ Lee's WWE career was brief, it opened the door for wrestlers like Sasha Banks, Becky Lynch, and many others who defy the old "Diva" model that WWE turned to for so long. Not only that, Lee also inspired countless young girls with her distinct character traits, in-ring ability, and motivation to be the best of the bunch, no matter how hard it was to get there.
Pedro Morales (Pedro Antonio Morales)
The list of Puerto Rican wrestlers is one filled with some of the greatest men and women to enter the ring, and near the top of that list is Pedro Morales. Born in Culebra, Puerto Rico, Morales' career spanned 30 years before he hung up his boots for good in 1987. During that time, Morales became the first Triple Crown Champion in the promotion's history and would remain the only person to win all of the company's titles until Bret Hart well over a decade later.
Even after stepping away from the ring, Pedro Morales remained one of the most influential names in professional wrestling and served as the inspiration for future Puerto Rican and Hispanic wrestlers in general. Morales passed away in February 2019 at the age of 76.
Mil Máscaras (Aarón Rodriguez Arellano)
Most of Mil Máscaras' success came outside of a WWE ring, but the legendary Mexican luchador was part of one of the most pivotal moments in the history of the promotion and North American wrestling when he became the first Luchador to get in the ring at Madison Square Garden.
Like so many wrestlers in the decades following his debut, Mil Máscaras was just as known for his luchador action movies as he was for his in-ring work. Starting with Mil Máscaras in 1966, the Mexican wrestler would star in 20 movies over the course of the following 40 years, with his most recent role being in 2015's Aztec Revenge.
Chavo Guerrero Jr. (Salvador "Chavo" Guerrero IV)
Chavo Guerrero Jr. might not be as successful or as influential as his uncle, Eddie Guerrero, but the six-time Cruiserweight Champion and member of famed Guerrero wrestling family happens to be one of the most influential Mexican American wrestlers of all time. Between stints with WCW and WWE, Guerrero has also be a three-time tag team champion, being named the Tag Team of the Year along with Eddie Guerrero by the Wrestling Observer Newsletter in 2002.
Although his career has slowed down some over the years, Chavo Guerrero Jr. continues to make appearances in various promotions and currently serves as the fight coordinator on the Netflix series GLOW.
Carlos Colón (Carlos Edwin Colón González Sr.)
Puerto Rican wrestling legend Carlos Colón is known for his ability to book outstanding matches as he is for taking part in them. Getting started in the business back in 1966, Colón would go on to start the promotional company, Capitol Sports Promotions, which helped increase the visibility of the sport in his native Puerto Rico. The patriarch of the Colón wrestling family would also make a couple appearances in WWE (first in 1966 and then again in 1993), and helped lead the way for future stars from his family, Carlito, Epico, and Primo.
Carlos Colón was eventually recognized by WWE in 2014 when he was inducted in to the company's Hall of Fame for his contributions to professional wrestling.
El Santo (Rodolfo Guzmán Huerta)
El Santa, perhaps the most popular luchador and one of the most recognized wrestlers of all time, technically never stepped foot into a WWE ring, but the Mexican icon was inducted into the Hall of Fame in 2018 for everything he did for the art throughout his life. Between 1934 and 1982, El Santo entertained crowds of wrestling fans and movies alike thanks in part to his iconic silver mask, which he only removed in public once before his death in 1984.
El Santo never got a WrestleMania moment, but he was a big enough star and source of inspiration on his own. By helping spread the lucha libre style of wrestling throughout the world with his matches and more than 50 movies, it would be hard to make a list of the most influential Hispanic wrestlers without including this icon.
Vickie Guerrero (Vicki Lynn Benson)
And then there is Eddie Guerrero's widow, Vickie, who following the death of his husband in 2005 became one of the biggest driving forces in professional wrestling. With her iconic, "EXCUSE ME!" catchphrase and uncanny ability to work a crowd into a frenzy, Vickie Guerrero is about as effective as a manager can be in professional wrestling. And while she is probably best known for her heel work throughout her WWE career, Guerrero was also at times one of the most charming and sympathetic characters in the company.
Over the years, Vickie Guerrero has continued to keep her late husband's legacy alive in the sport of professional wrestling, even going as far as to personally hand over a pair of Eddie's wrestling tights to Sasha Banks.
Those are just 10 of the influential Hispanic WWE superstars who have left a mark on professional wrestling over the years. Did you childhood favorite make the list? Make sure to sound off in the comments below and don't forget to share cherished stories about your favorite WWE superstar.
Your Daily Blend of Entertainment News
Philip grew up in Louisiana (not New Orleans) before moving to St. Louis after graduating from Louisiana State University-Shreveport. When he's not writing about movies or television, Philip can be found being chased by his three kids, telling his dogs to stop yelling at the mailman, or yelling about professional wrestling to his wife. If the stars properly align, he will talk about For Love Of The Game being the best baseball movie of all time.
Your Daily Blend of Entertainment News
Thank you for signing up to CinemaBlend. You will receive a verification email shortly.
There was a problem. Please refresh the page and try again.