10 Awesome WWE Christmas Gift Ideas For The Wrestling Super-Fan In Your Life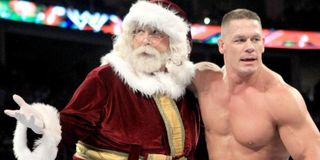 CinemaBlend participates in affiliate programs with various companies. We may earn a commission when you click on or make purchases via links.
If there is one thing wrestling fans love almost as much as attending a live show like WrestleMania, SummerSlam, or the Royal Rumble, it has to be wrestling-themed merchandise. And since those WWE super-fans aren't able to "go to the matches" this year, this is your golden opportunity to reach up and grab some great WWE gifts to make 2020 a little better for that special member of Cenation in your life.
If you are looking for the perfect present even Vladimir the Super-Fan would approve of, you've come to the right place because we've put together a 10-count of great gifts ranging from replica WWE Championship belts to a Royal Rumble card game that makes for a great substitute to that one Royal Rumble drinking game you and your friends played in college.
A Copy Of The 35 Years Of WrestleMania Illustrated Book
There's no use in sugar-coating in — WrestleMania 36 was a strange and somewhat lackluster two-night experience in April 2020 due to the fact that the even that was supposed to be held in a massive football stadium was instead presented like a studio show with no audience. One way to get the weird taste out of your mouth, or the mouth of the wrestling fan in your family, is to pick up a copy of 35 Years of WrestleMania, a 256-page chronology of the "Showcase of the Immortals" that shows the matches, stage designs, and memories of WrestleMania's storied history. This 2019 update includes 32 additional pages of exclusive content not featured in the previous 2014 edition of the illustrated book.
Buy It On Amazon Here (opens in new tab).
An Amazon Exclusive Funko Pop! Set Featuring Hulk Hogan And Mr. T
And since we're talking about WrestleMania and the titans of the industry who made names for themselves throughout the annual event's history, now is the perfect time to recommend the Amazon exclusive Funko Pop! set featuring Hulk Hogan and Mr. T as they appeared at the original WrestleMania held at Madison Square Garden back in 1985. Funko Pop! figurines are popular with nearly every fanbase out there, and that's no different for WWE fans and wrestling fans in general. Considering the popularity and collectibility of the WWE-themed vinyl figurines like this, don't hesitate to snag this set for that wrestling fan in your life.
Buy It On Amazon Here (opens in new tab).
This Shirt With A Picture Of Macho Man Randy Savage Staring Into The Sunset
The photograph of Macho Man Randy Savage seemingly contemplating life while staring into the sunset has become one of the most iconic images in wrestling history. From the late wrestler's attire consisting of "Macho Ma" bandana, amazing sunglasses, tie-dye tank-top, blue jeans, and cowboy boots to the classic WWF Championship belt, this picture has it all. Well, now you (or the wrestling fan in your life) can have a shirt with the amazing image of the Macho Man thinking about his life and career printed front and center. And let's be honest, there are some great Randy Savage shirts out there, but very few compare to the absurdity found on this one, even if it looks like Savage is quietly whispering "Oh no" instead of yelling out his trademark "Oh Yeahhhh!" catchphrase.
Buy It On Amazon Here (opens in new tab).
This Royal Rumble Card Game For Pay-Per-View Parties
Who knows how Royal Rumble parties, or the annual Royal Rumble event itself, will look in 2021, but there is something to hold the wrestling fans over in the meantime. The WWE Legends Royal Rumble Card Game from Ravensburger comes with 30 of the most popular and prolific names in the history of WWE that you can then use to reign supreme over the competition at any gathering or a not-so-quiet night watching old wrestling videos with your brothers. This easy-to-understand game can be enjoyed by as many as 10 players or as few as two and takes anywhere from 30 to 45 minutes to complete. And best yet, this Royal Rumble game won't have the damaging affects on your body, mind, soul, and even friendships like all of those unofficial Royal Rumble drinking games.
Buy It On Amazon Here (opens in new tab).
A Copy Of The Squared Circle: Life, Death, And Professional Wrestling
There are countless wrestling books out there, but let's be honest, not all of them are great or even moderately entertaining or enlightening. That's far from the case for David Shoemaker's 2014 book titled The Squared Circle: Life, Death, and Professional Wrestling. This nearly 400-page history of the art of professional wrestling told through the stories of the some of the the sport's biggest and brightest stars. With chapters and sub-chapters dedicated to the legacy of the likes of Bobo Brazil, Junkyard Dog, the Von Erich family, and other legends of wrestling, Shoemaker offers an unparalleled recounting of those individuals' lives and legacies. Shoemaker's writing style, his use extensive use of footnotes, and general love of professional wrestling make this a must-read.
Buy It On Amazon Here (opens in new tab).
A Replica WWE Money In The Bank Briefcase
Since its introduction in the early 2000s, the Money in the Bank ladder match (the winner is granted a championship match of their choosing) has become a fan-favorite spectacle that has since become its own WWE event. And while the average wrestling fan will never get an opportunity to take part in the match or "cash in" the briefcase in front of tens of thousands of fans at WrestleMania, there's totally a replica briefcase that anyone can own. Like the real Money in the Bank briefcase, this replica with its golden finish and green lettering is a hot commodity and will go fast, so don't hesitate.
Buy It On Amazon Here (opens in new tab).
Book It! The Pro Wrestling Promoter Card Game
There are vocal wrestling fans out there who are convinced they could do a better job of running a WWE show than Vince McMahon or any of the writers and producers who prepare the company's 7+ hours of programming each week. Well, now you can get that wrestling fan in your life a gift that will let them do what they've always wanted to do: book a wrestling promotion of their own. Book It! The Pro Wrestling Promoter Card Game can be enjoyed by one to four players and allows each person to build and run their own promotion with a series of illustrated wrestler and resource cards. This cause-and-effect game will test would-be promoters and task them with running a smooth operation that fills arenas, pays wrestlers, and work towards a successful future.
Buy It On Amazon Here (opens in new tab).
This Replica WWE 'Winged Eagle' Championship Belt
As far as WWE wrestling championship belts are concerned, there are few that come close to the look of the "Winged Eagle" belt introduced by Hulk Hogan in 1988 that was then worn by the likes of Macho Man Randy Savage (like in the shirt up above) and Bret "The Hitman" Hart before it was phased out for a new variation of the design following Stone Cold Steve Austin's victory over Shawn Michaels at WrestleMania 14 in 1998. If you really want to get a great gift for the WWE super-fan in your life and have some money to spend this holiday season, pick up a replica belt so they can show off at different wrestling shows when fans are allowed in the future.
Buy It On Amazon Here (opens in new tab).
A Copy Of WWE: The Official Cookbook
If you know someone who is a fan of cooking, puns, and WWE, then you have to grab them a copy of WWE: The Official Cookbook. Loaded with dozens of recipes ranging from Big Show's World's Largest Pancake to Batista's Ba-Quiche-Ta, this 128-page cookbook has it all. And who knows, maybe the next time you go to their house for brunch or a wrestling-themed dinner party, you can finally find out what The Rock was cooking all those years (it may or may not be Jabroni Macaroni Salad). The easy-to-follow recipes are simple enough that even the most novice of at-home chefs can knock them out with little trouble.
Buy It On Amazon Here (opens in new tab).
This Undertaker Art Print For The Home Office Or Boiler Room
Do you have a fan of The Undertaker in your life who is all bent out of shape because the Deadman finally called it quits in 2020? Well, the WWE Shop currently has quite a few Undertaker-themed prints available for purchase, including one from legendary artist Rob Schamberger that serves as a tribute to the various incarnations of the WWE character from his 30-year career. From Old West mortician all the way to his look seen throughout the final years of his historic career. This would be a perfect addition to a home office, den, or boiler room.
Buy It On WWE Shop Here.
And that is just a sampling of all the great WWE and wrestling-themed gifts you can purchase right now. With so many online retailers and wrestling promotions, there is no telling what you can find for the wrestling fan in your life.
Philip grew up in Louisiana (not New Orleans) before moving to St. Louis after graduating from Louisiana State University-Shreveport. When he's not writing about movies or television, Philip can be found being chased by his three kids, telling his dogs to stop yelling at the mailman, or yelling about professional wrestling to his wife. If the stars properly align, he will talk about For Love Of The Game being the best baseball movie of all time.
Your Daily Blend of Entertainment News
Thank you for signing up to CinemaBlend. You will receive a verification email shortly.
There was a problem. Please refresh the page and try again.