How To Watch Attack On Titan Season 4 Streaming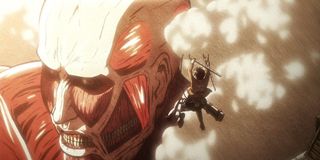 CinemaBlend participates in affiliate programs with various companies. We may earn a commission when you click on or make purchases via links.
There are few Japanese entertainment properties that have found as much success in the United States in recent memory than the manga-turned-anime Attack on Titan. There is something about the show with its detailed animation and terrifying story about humanity living trapped in walled-off cities while man-eating giants known as Titans loom in the distance, oftentimes out of sight but never out of mind. And although the series is extremely popular, some may be wondering where they can watch Attack on Titan Season 4 streaming.
If you fall into those ranks, you will be glad to hear that not only is Attack on Titan Season 4 streaming, there are numerous ways to enjoy the final season, and some don't require a monthly subscription (though there are benefits to premium accounts). Let's go ahead and break it down so you don't miss any of the action.
How To Watch Attack On Titan Streaming
There are multiple options to choose from if you want to watch Attack on Titan Season 4 streaming, with each of those streamers having new episodes of the anime available every Sunday. The fourth and final season premiered on Hulu (opens in new tab), Crunchyroll, and Funimation (opens in new tab) on Sunday, December 6, with the second episode set to premiere on Sunday, December 13. The process for Hulu subscribers is fairly easy and only requires users to log in, search for the show, and start enjoying the latest episode. There are more options for those wishing to watch Attack on Titan on Crunchyroll or Funimation, but we'll go ahead and quickly break those down.
The Attack on Titan Season 4 premiere became available for premium subscribers on Crunchyroll and Funimation on December 6, but the episode won't be available for free users on those two streaming services until December 13, meaning those users will be required to wait seven days for each subsequent episode this season. It should also be noted that Crunchyroll does not require free users to create an account but everyone is required to register for Funimation's streaming library.
Will Attack On Titan Be On Netflix?
It remains to be seen whether or not Attack on Titan Season 4 will be available on Netflix at some point in the future, but it's not entirely out of the question either. Netflix subscribers can currently stream the first season of the hit anime in its entirety, but that's not the case for the show's second and third seasons. But if you are trying to catch up before you start the final set of episodes, you are not out of luck as Attack on Titan is on other streaming services.
Where To Watch Past Seasons Of Attack On Titan Streaming
All past seasons of Attack on Titan are currently streaming on Hulu, Crunchyroll, and Funimation, including both the original Japanese episodes with English subtitles and the dubbed versions. Those three seasons are also available for on-demand streaming on services like YouTube TV as well as through the Adult Swim app (cable provider required).
Hopefully all of this is helpful to anyone who either wants to watch Attack on Titan Season 4 or wants to catch up on all the other seasons they missed in the past. Also, don't forget to check out CinemaBlend's Fall 2020 and Winter and Spring 2021 TV release guides for the latest on what's coming to a small screen near you.
Philip grew up in Louisiana (not New Orleans) before moving to St. Louis after graduating from Louisiana State University-Shreveport. When he's not writing about movies or television, Philip can be found being chased by his three kids, telling his dogs to stop yelling at the mailman, or yelling about professional wrestling to his wife. If the stars properly align, he will talk about For Love Of The Game being the best baseball movie of all time.
Your Daily Blend of Entertainment News
Thank you for signing up to CinemaBlend. You will receive a verification email shortly.
There was a problem. Please refresh the page and try again.