Attack On Titan And 6 Other Great Anime TV Shows Available Right Now On Netflix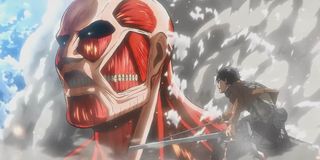 CinemaBlend is partnering with Tidal to bring you fresh content to stay in and stream with each day. We're also offering a free 30 day trial. You can sign up for the package with Tidal here. (opens in new tab)
A lot of people want to talk about all the great movies or reality TV shows on Netflix, but I rarely hear anybody talking about the great anime selection that can be found on Netflix like Castlevania and Attack on Titan.
In fact, there's actually a wide assortment of anime on the streaming service that you can watch this very second. Now, keep in mind, some of these shows have incomplete seasons (Netflix isn't Crunchyroll after all). But what's on the streaming service is definitely good enough for any surface-level anime fan. So, including Attack on Titan, here's a list of 6 other great anime TV shows to stream right now. And if you're not into anime, then hopefully, this article will make an otaku out of you.
Attack on Titan
Immensely depressing, and yet, somehow hopeful, Attack on Titan follows Eren Yeager and his friends Mikasa Ackerman and Armin Arlert as they battle skyscraper tall titans within their walled city. The series has an almost Ender's Game vibe to it in that the young are conscripted into the military out of necessity, and this story follows their journey.
There are a lot of twists and turns you won't see coming, especially when it comes to Eren, and you really start to worry about the safety of these characters, even the ancillary ones. But alas, only season one is available on Netflix. If you want to watch Seasons 2 and 3, you'll have to have a Hulu account. Stream the first season here (opens in new tab).
Fullmetal Alchemist: Brotherhood
Interestingly, you can watch both Fullmetal Alchemist AND Fullmetal Alchemist: Brotherhood on Netflix (as well as the live-action Fullmetal Alchemist movie, but…eh, don't watch that one). But if you're going to watch one, watch Brotherhood, since that's the closest to the original manga.
The story, in a nutshell, is about two brothers named Edward and Alphonse Elric. Edward has an affinity for alchemy, and after the brothers' mother dies, Edward tries to resurrect her with alchemy, which is a big no-no. He messes it up, and his brother's soul gets swept away. In a last ditch effort, Edward transfers his brother's soul into a giant suit of armor, and yes, the story is as weird as it sounds. But it's also really cool and once the show starts getting into the homunculi, you'll be hooked. Stream the entire series here (opens in new tab).
Jojo's Bizarre Adventure
Even if you've never watched or read Jojo's Bizarre Adventure, you've likely seen one of its memes online. Jojo's Bizarre Adventure is, well, bizarre. It's about a whole Joestar family fighting different villains (mostly a dude named Dio) through multiple points in history. The series is probably most known for all the weird and powerful Stands, which give the fighters supernatural abilities.
Jojo's Bizarre Adventure has a rabid fan base and it's unlike any other anime out there. I first heard of Jojo's Bizarre Adventure because of the obscure Dreamcast game and I'm happy that it's finally found a bigger audience because of the Netflix show. You can stream the first two seasons of the new Jojo show here (opens in new tab).
Ultraman
Based on the popular character who dates all the way back to the 60s, Ultraman as an anime is about a high school student named Shinjiro who has amazing abilities. He finds out that his father was the famous Ultraman, and now Shinjiro is fitting into his dad's Ultrasuit.
The anime is absolutely gorgeous, with a cel-shaded look that really makes it pop. Plus, it's Ultraman, so expect huge battles against monsters in cities. Think Jet Jaguar, but actually cool. There is another season coming out in 2021, but you can stream the first season here (opens in new tab).
Naruto
Naruto, Naruto, Naruto. Where do I begin with Naruto? The king of filler episodes, Naruto is mostly about a boy who has the spirit of a nine-tailed demon inside of him who wants to become his village's Hokage, which is a form of ninja (or shinobi). It's a show filled with action and humor, and, well, flashbacks. Lots and lots of flashbacks.
I'm going to be honest with you. I am not the biggest fan of Naruto. That said, I feel I would be remiss if I didn't mention that a LOT of Naruto can be found on Netflix since the series has such a huge fan base. A slew of the movies, such as Ninja Clash in the Land of Snow and Naruto The Movie Shippuden can be found on there, so if you love Naruto (and a lot of people do), then you will have a great deal to watch if you have a Netflix account. You can watch all nine (nine?!) seasons of Naruto here (opens in new tab).
Death Note
Death Note, like Fullmetal Alchemist, actually got a live-action movie on Netflix and it is HORRENDOUS. Don't watch the movie, but do watch the anime, which is about a high school student named Light Yagami who finds a notebook (A death book, really) left by a bored death god named Ryuk. The book is unique in that all you have to do is write down the name of a person and they'll die. Light uses it and becomes Kira, which pretty much means Killer.
Death Note has an interesting plot and storytelling, and it's creepier than a lot of the other anime out there. There is just one season of Death Note with a manageable 37 episodes, and you can stream it here (opens in new tab).
One Punch Man
And finally, let's end off on a really fun show. One Punch Man is about a bald dude named Saitama who can basically destroy anybody with a single punch. Really, that's pretty much the whole plot. He's always searching for a new challenger, but life as a superhero kind of sucks when you're pretty much Mike Tyson.
One Punch Man is not to be taken seriously. Or is it? The villains are silly, but the show is still engaging since it basically asks the question about what do you do when you're virtually superman? There are two seasons of One Punch Man, but you can only watch the first one on Netflix, which you can find here (opens in new tab).
And that's it. There are a lot of other great anime shows on Netflix, but these are some of the most popular. Netflix is great overall, and it's awesome to see that anime gets so much love on the streaming service. There's really something here for everyone. All you have to do is look for it.