One Bachelorette Change The Show Will Probably Stick With After The Pandemic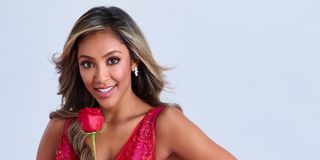 The events of this year have heavily affected the way movie and TV productions have gone about filming. Casts and crews have had to quarantine before the cameras officially rolled, testing and masks are required, and social distancing measures are in place. For the most part, the changes are barely noticeable to viewers. However, there is one specific change implemented during The Bachelorette Season 16 that host Chris Harrison thinks will stick around even after the pandemic is over.
During The Bachelorette's Men Tell All episode, the number of returning contestants was cut in half. Rather than have all of the men from Clare Crawley and Tayshia Adams' season appear, only some of them were invited to attend. The decision was largely due to COVID-19 restrictions, which doesn't allow for large groups of people to be in one place. Chris Harrison actually loved having a smaller group for the episode. Here's what he told ET:
Although Chris Harrison says that he would love to have the live audience back for the Tell Alls, it sounds like he's fine filming the episodes with only half of the contestants in the future. Despite the smaller group who were invited to the Men Tell All, there was still plenty of drama thanks to Yosef Aborady.
In addition to the changes made to the Men Tell All episode of The Bachelorette, Tayshia Adams did not get a chance to visit the men's hometowns. Rather, it was their family members who flew out to visit them at the filming location of the La Quinta Resort & Club in Palm Springs. Chris Harrison liked how that turned out, and is optimistic that the producers can keep this particular change in future seasons as well. Here's what he had to say about it:
This year has certainly changed a lot of things (in our real lives and within the TV industry), but it seems The Bachelorette is adjusting nicely to the alterations to Season 16. With the circumstances driving the behind-the-scenes decisions, I think the series did the best it could do and it turned out pretty well.
The Bachelorette Season 16 airs Monday and Tuesday nights at 8:00 p.m. ET on ABC. For more on what to watch in the coming months, be sure to check out our updated 2021 winter and spring TV premiere schedule.
Your Daily Blend of Entertainment News