What The Middle Cast Is Up To Now, Including Patricia Heaton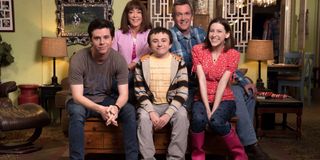 The Middle was a wholesome sitcom that aired from 2009 to 2018, and followed the Heck family, a midwestern middle-class family with a bunch of unique and unforgettable characters. The Heck family consisted of the reality-TV loving, always striving to make her family picture-perfect Frankie (Patricia Heaton) to the man of few words and strict Mike (Neil Flynn) to the eternally optimistic Sue (Eden Sher). A major reason that the series worked so well was because of the charming The Middle cast and their on-screen familial chemistry.
It's been a little over two years since we said goodbye to the Hecks, and the series is now available to stream in its entirety on HBO Max, so it's a good time to check-in and see what the cast has been up to since The Middle ended. Let's revisit some of our favorite characters and actors.
Patricia Heaton (Frankie Heck)
Frankie Heck is the matriarch of the Heck family, and she often wants her family to become less dysfunctional, but without putting much effort into the process. Frankie is a very loving mother, even if she doesn't always get things just right. She also is like a combined, more normal version of her three children.
Heaton voiced Mama bear in the animated movie Smallfoot. It's the story a bond that forms between a yeti and a human. Some of the other voice cast of Smallfoot includes Zendaya, Channing Tatum, and Danny DeVito. In 2019, Heaton returned to the TV world in Carol's Second Act. The series followed a woman in her 50s going to medical school. CBS canceled the series after one season. Recently, Heaton joined the cast of the film adaptation of The Unbreakable Boy. The film is about how a young boy with autism and a rare bone-disease brings joy to the lives of all those that he encounters.
Heaton also released a book in 2020 called Your Second Act: Inspiring Stories of Reinvention, and in 2019, she released a collection with Walmart called Patricia Heaton Home.
Neil Flynn (Mike Heck)
Mike isn't a big fan of displays of affection or emotions, but he shows his family that he loves them in other ways. He's the typical midwestern father that believes in working hard to achieve mediocrity. Neil Flynn can be heard voicing Jonathan Kent in the DC animated film Superman: Man of Tomorrow. It was released on digital on August 23, 2020, then followed by a DVD and Blu-ray released on September 8, 2020.
Prior to The Middle, many likely know Neil Flynn for his role as Janitor in Scrubs. Since The Middle, Flynn appeared in the short-lived series Abby's. It follows Abby (Natalie Morales) as she turns her backyard into an unlicensed bar. Flynn played Fred, one of her frequent customers and father-figure. In 2020, Flynn appeared in the series Solar Opposites, Scroll Wheel of Time, and Carcerem (an audio series).
Eden Sher (Sue Heck)
If only we could all have some of Sue's unwavering spirit and optimism. Sue hopes and believes like no other. Things don't always work out as she plans, but it doesn't stop her from believing that good things will happen for and to her. She's probably The Middle character that grows and matures the most throughout the series. Briefly, The Middle fans were hopeful that the world of the Heck family would continue with a Sue-centered spin-off. Unfortunately, ABC passed on the show that would have been called Sue in the City.
Sher appeared in the Netflix original movie Step Sisters. The movie follows a group of white sorority girls being taught to step by a black sorority girl. Eden Sher also appeared in episodes of Robot Chicken, Superstore, and had a recurring role on Jane the Virgin.
Charlie McDermott (Axl Heck)
Axl is the eldest of the Heck children. He's a bit of a troublemaker who enjoys not wearing a shirt or pants. He often argues with his parents, but he occasionally surprises them by showing them that he does care. He also often torments his younger siblings, especially Sue-Sue.
Since The Middle wrapped up, Charlie McDermott has a small role in the film Instant Family. The film follows a couple as they embark on a journey to adopt three siblings, including one teenage girl. McDermott also appeared in the movie Countdown. It's a horror film about a mobile app that tells people when they're going to die. He also had a recurring role on the Emmy-nominated and critically acclaimed limited series Unbelievable, in which he plays Ty. McDermott has been releasing music, including a recent album called some things just fall out of your hands.
Atticus Shaffer (Brick Heck)
Brick is the youngest of the Heck clan, and he's one of the most intelligent, but he has a lot of ticks and quirks that makes him seem odd to others. Atticus Shaffer has done a lot of voice-over work, some of which started before The Middle ended but concluded after it. He has done voice-overs in the series The Lion Guard, Home Adventures with Tip & Oh, Pete the Cat, Star vs. the Forces of Evil, Harvey Girls Forever, and the radio series Adventures in Odyssey.
Shaffer also appeared in an episode of Never Have I Ever, and the film I'll Be Next Door for Christmas. Atticus Shaffer has become part of the Twitch community, often broadcasting himself playing video games.
Beau Wirick (Sean Donahue)
Sean Donahue is part of the seemingly perfect and nice Donahue family, the Heck family's next-door neighbors. He is one of Axl's best friends. Sue has a crush on Sean during the early seasons of The Middle, but she grows out of it. However, towards the end of the series, Sean becomes Sue's main love interest and eventual husband (as shown in the finale).
Beau Wirick has been involved with humanitarian work with the organization World Vision. It's an organization that aids, helps, develops, and advocates for children and their families worldwide. According to his Instagram, Wirick has become a financial coach, and he has a private web series about investment and other financial related topics.
Brock Ciarlelli (Brad Bottig)
Brad is Sue's best friend. He's often seen by her side, particularly in the earlier seasons, keeping hope alive and accompanying her on any potential adventure. He's also a fan of Broadway and big productions. Brock Ciarlelli was supposed to be one of the original The Middle characters to follow Sue to her spin-off. Ciarelli hasn't been up to much professionally since The Middle, but he often posts about his love of TV, including Big Brother, and his boyfriend on social media, so he seems to be enjoying his break (for the moment) from the film and TV world.
Chris Kattan (Bob Weaver)
In the earlier seasons of The Middle, Bob Weaver was Frankie's co-worker when she worked at Ellert Motors. He kind of forces his way on the family and becomes a family friend. Bob definitely thinks he's cooler than he is and has clearly had a less than ideal life, but he tries to mask it with confidence--bordering on delusions. Chris Kattan stopped appearing in The Middle in 2014, but the former SNL star has appeared in a lot of things since leaving the series.
He voiced Kakie in Hotel Transylvania 2. He then played John Wilkes Booth in The Ridiculous 6. He also appeared in the films The Last Film Festival, Walk of Fame, and How to Get Girls. Kattan did more voice-over work in The Awesomes, Jake and the Never Land Pirates, and Bunnicula. He was also a contestant on Season 24 of Dancing with the Stars, and he appeared on the series Bill Nye Saves the World and Celebrity Family Feud.
Jen Ray (Nancy Donahue)
Nancy Donahue is the mother that other mothers aspire to become. She's very involved in her children's lives, and often does whatever it takes to make her family happy. Frankie envies her at first but the two become genuine friends. Jen Ray had a recurring role on the soap opera General Hospital. She played Chelsea Lam. She also played Jo the Cook on a couple of episodes of Mrs. Carmody & Mrs. Jellineck.
John Gammon (Darrin McGrew)
Darrin was one of Axl's best friends and Sue's first real boyfriend. He's portrayed as being less intelligent than those around him but as a very sweet and caring guy. John Gammon left The Middle in 2015, and has only had a couple of acting credits since then. According to his LinkedIn, he is now a mortgage banker for Quicken Loans in Cleveland, Ohio.
Daniela Bobadilla (Lexie Brooks)
Lexie is Sue's college roommate. She seems to have some of the same attributes as Sue, but with way more money. She becomes Axl's love interest and girlfriend in the later seasons. It's also revealed in the series finale that she marries Axl. Daniela Bobadilla did voice-over work for the series Young Justice, Justice League vs the Fatal Five, and Curious George: Royal Monkey. She also appeared in an episode of Modern Family as Trish.
Daniela Bobadilla blogs on her website Lessons Learned. She writes advice and shares about her life, including her marriage to Beau Wirick (who played Sean on The Middle).
Recently, HBO Max made all nine seasons of The Middle are now available exclusively to stream on the service. That makes now the perfect time to revisit the Heck family, or to introduce yourself to them and all their wacky neighbors, friends, and extended family. Stream The Middle on HBO MAX here.
Your Daily Blend of Entertainment News
Spent most of my life in various parts of Illinois, including attending college in Evanston. I have been a life long lover of pop culture, especially television, turned that passion into writing about all things entertainment related. When I'm not writing about pop culture, I can be found channeling Gordon Ramsay by kicking people out the kitchen.