How To Watch Are You Afraid Of The Dark Streaming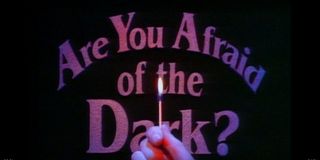 CinemaBlend participates in affiliate programs with various companies. We may earn a commission when you click on or make purchases via links.
For people of a certain age, there was no better way to spend a Saturday night growing up than watching Nickelodeon's sometimes campy but always terrifying answer to The Twilight Zone, a little show called Are You Afraid of the Dark? and its various chilling stories. And now, in a world where pretty much everything can be watched online, there may be some out there wondering where they can watch Are You Afraid of the Dark streaming?
I'm not starting some freaky tale with a handful of "midnight dust" when I tell you that you can stream all five seasons of Are You Afraid of the Dark? right now, meaning you can watch classics like "The Tale of the Dark Music," "The Tale of the Pinball Wizard," and "The Tale of Laughing in the Dark" with Zeebo the Clown's devious head games. Oh, and you can even watch an episode featuring Hollywood heartthrob Ryan Gosling in his younger days…
Where Is Are You Afraid Of The Dark Streaming
If you want to join in with The Midnight Society and take part in all those memorable stories told around the campfire (and the terrifying opening title sequence), then all you have to do is head over to CBS All Access, search for Are You Afraid of the Dark?, and you'll be watching in no time at all. You can also find it included under CBS All Access' lengthy list of Nickelodeon titles (opens in new tab).
It should be noted, however, that five stories from throughout the show's original run are not available streaming, so you'll have to seek out a DVD or dig through your old VHS collection if you insist on catching every episode. If that's not a problem, head on over to the ViacomCBS streaming service and start freaking yourself out. And if you're looking for that Ryan Gosling episode, head over to Season 5 to catch "The Tale of Station 109.1."
A subscription to CBS All Access is required. Get more information on CBS All Access here. (opens in new tab)
Will Are You Afraid Of The Dark Be On Netflix?
In a perfect world, Are You Afraid of the Dark? and every other great show form the history of television would be streaming on Netflix, but that's not the case here. CinemaBlend has touched on this very topic in the past with a 2014 list of 10 great shows that should be on the popular streaming service. It's hard to say if Are You Afraid of the Dark? will ever be on Netflix, but in the meantime, there are some great alternatives...
Other Shows Like Are You Afraid Of The Dark Streaming
What if you have already watched Are You Afraid of the Dark? but still want to watch more creepy stories in the same vein as the Nickelodeon series? What do you do? Well, Netflix has all four seasons (plus a dozen additional specials) of the Goosebumps television series from the 1990s, as well as over 100 episodes of the original run of The Twilight Zone. Over on CBS All Access you can watch both the classic version of The Twilight Zone as well as the 2019 Jordan Peele-narrated reboot. And then there is the offbeat children's light-horror show Eerie, Indiana on Amazon Prime Video if you want a nice throwback.
This should be more than enough to help you seek out The Midnight Society and take par in their various creepy stories from Are You Afraid of the Dark?.
Have you considered using a VPN? You may already use one as a way to keep your internet access secure when using public wi-fi, but did you know you can use a VPN to watch your favorite streaming content when you're traveling out of region? If you're traveling out of the U.S. area and still want to catch Are You Afraid of the Dark on CBS All Access, consider using a VPN (opens in new tab).
Philip grew up in Louisiana (not New Orleans) before moving to St. Louis after graduating from Louisiana State University-Shreveport. When he's not writing about movies or television, Philip can be found being chased by his three kids, telling his dogs to stop yelling at the mailman, or yelling about professional wrestling to his wife. If the stars properly align, he will talk about For Love Of The Game being the best baseball movie of all time.
Your Daily Blend of Entertainment News
Thank you for signing up to CinemaBlend. You will receive a verification email shortly.
There was a problem. Please refresh the page and try again.