Wait, Is HBO Max's Sex And The City A Revival Or A Reboot?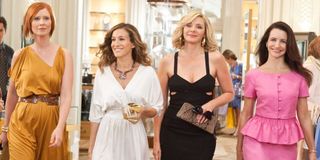 Reboots and revivals have become all the rage in bringing beloved series back to air — Will and Grace, Fuller House, and Charmed are among many shows that have been revived in some form or other in recent years, and it looks like Sex and the City may be following in their footsteps. After six seasons and two movies, the HBO series could be returning to television as opposed to a third feature. But will it be a reboot or a revival? Let's dive in.
A new Sex and the City project might be in the works at HBO Max, only this time it would return as a limited series that will potentially only bring back three of the four main characters, leaving Kim Cattrall's Samantha out of the reunion altogether. That wouldn't be all that surprising, considering Cattrall's feelings toward co-star Sarah Jessica Parker. While it's unclear at this stage who will return, the Page Six report revealed that the limited-episode project is set to be a "reboot." Meanwhile, other media outlets have reported on the subject while calling Sex and the City a "revival." So which is the truth?
If It's A Revival…
A Sex and the City revival would be more ideal in this situation for obvious reasons. The terms reboot and revival have sometimes been used interchangeably, but there is a big difference when it comes to character-centric projects as opposed to plot-centric shows. If Carrie Bradshaw were to reunite with her gal pals in a current-day scenario, then a revival makes a lot more sense. Revivals simply serve as expansions of the original show, extending the time fans get to spend with familiar and beloved characters, while also developing more of the world they live in.
Fans would learn what the characters have been up to in the years since we last saw them in Sex and the City 2, and nothing about the show's history would need to change. In this instance, even if Kim Cattrall didn't want to reunite with her co-stars as Samantha Jones, a revival wouldn't change everyone's onscreen friendships. Samantha could just be on a work trip or lounging on some beach in California offscreen.
If It's A Reboot…
A full-on Sex and the City reboot would be more tricky. Reboots are more of an homage to the original series instead of an update of the characters played by the same actors. The CW's Walker, for example, is a reboot of the original Walker, Texas Ranger, with changes being made to bring the series into the modern day. Without Kim Catrall returning for the limited series, the Sex and the City creative team could feasibly reboot the show as led by a female threesome, with the Samantha character getting written out, or perhaps being recast with another actress.
Personally, I'm definitely not on board with any of those changes, and would rather see a pure reboot pitch die on the vine before it ever hits the air, rather than having to watch a new Sex and the City series completely change the show's canon. Considering that the rest of the cast, including Kristin Davis and Cynthia Nixon, might also be returning despite Cattrall's absence, points to the HBO Max series being a revival and not a reboot. However, only time will tell.
As of this writing, HBO Max representatives have still not confirmed Sex and the City's return, but stay tuned to CinemaBlend for updates on this story and more TV news. The original Sex and the City is currently available to stream on HBO Max. For more on what to watch in the coming months, be sure to check out our 2021 Winter and Spring TV premiere schedule.
Your Daily Blend of Entertainment News