Alec Baldwin's Wife Hilaria Defends Herself After Accusations She's Only Pretending To Be Spanish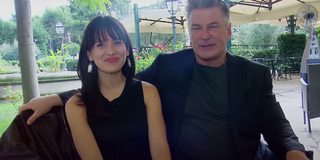 Hilaria Baldwin, wellness expert and Alec Baldwin's wife, has recently come under fire for allegedly pretending to be Spanish. The influencer has a large following in Latin America and with Spanish speaking people, thanks to her self proclaimed Spanish heritage. This accusation, if even thought by fans to be true, could have a big impact on both of their careers, and Hilaria Baldwin has now come out to defend herself.
Allegations of cultural appropriation and stealing are potentially career ending, especially when so much of Hilaria Baldwin's success has come from being associated with the same culture she is accused of appropriating. Since hearing the claims, Hilaria has taken to Instagram to defend herself and her culture. Here it is in her own words:
The USA is known as "the melting pot," a place where cultures come together. Hilaria Baldwin's story, although special and unique to her, is one that is not unheard of. In fact, stories like hers are more and more common as cultures continue to become intertwined. Hilaria and Alec Baldwin have both always claimed her to be from a multicultural background, having also passed down her culture to their children, and given them Spanish names.
An even stronger defense for Hilaria Baldwin (one that she does not mention), is that the initial allegations of her not actually being Spanish may be sourced back to Alec Baldwin's own stalker.
Even so, there are still some who question Hilaria Baldwin's use of the Spanish culture in her career, because they believe the facts of her background to be in question. Both of the Baldwins have said that she was born in Boston, but lived in Spain for some time before moving back at 19 to go to college, noting that she has family who lives in Spain, and that she is and was raised bilingual.
Some fans now question whether or not she has taken advantage of a link to Spanish culture (her mother moved there in 2011) in a way that is inappropriate and disrespectful. The main evidence that remains against Hilaria Baldwin is a Twitter clip of her on a TV appearance where she allegedly has a fake Spanish accent, and another where she claims to forget the English word for Cucumber.
These are instances that some fans are demanding answers for in the comments of her response video. But, the majority of fans commenting seem to be in support of Hilaria Baldwin, and see these instances as genuine, as she explains that they were naturally occurring. Whether or not the controversy will affect her career has yet to be determined.
Keep checking back with CinemaBlend to see how this story progresses and for other news in TV, movies and pop culture.
Your Daily Blend of Entertainment News
Constantly thinking about books, coffee, and the existential dread I feel from Bo Burnham's Inside. While writing I'm also raising a chaotic toddler, who may or may not have picked up personality traits from watching one too many episodes of Trailer Park Boys.
Your Daily Blend of Entertainment News
Thank you for signing up to CinemaBlend. You will receive a verification email shortly.
There was a problem. Please refresh the page and try again.