Alec Baldwin And Kelsey Grammer Are Teaming With Modern Family Co-Creator For New TV Show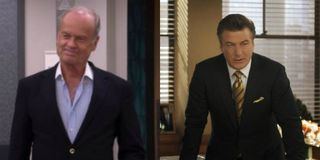 Modern Family wrapped its 11-season run earlier this year, but co-creator Chris Lloyd wasted no time in lining up his next major TV project with ABC that has already received a series order. This time around, Lloyd will be writing a new multi-camera sitcom starring Alec Baldwin and Kelsey Grammer in the leading roles. Talk about star power!
ABC has given a straight-to-series order to the currently untitled comedy, which is being executive produced by Chris Lloyd, Vali Chandrasekaran, and 20th Television (formerly 20th Century Fox Television before being bought by Disney). According to Deadline, the comedy will follow the story of three men who used to be roommates and became estranged. The trio rekindle their friendship decades later in a bid to finally do things the way they've always dreamed.
The new series is being planned for the 2021-2022 TV season, which means that it will probably be ready to premiere in the fall of next year. It's unclear how many episodes the first season will have, but if it is indeed a fall show then my guess is that it'll have the standard 22-episode season order. There's no word yet on who is being cast to fill the role of the third roommate.
While he has historically been a movie actor, Alec Baldwin is no stranger to television and most famously played Jack Donaghy on the sitcom 30 Rock alongside Tina Fey. He has also guest starred on Will and Grace. Most recently, Baldwin has played President Donald Trump on NBC's Saturday Night Live. It was a role he took on ahead of the 2016 presidential election and has since reprised several times over the last four years. Upon hearing that Joe Biden would be the next president of the United States, Baldwin stated that he was "overjoyed" to be losing his SNL gig.
As for Kelsey Grammer, the actor is most notable for his role as Dr. Frasier Crane. Grammer originated the famous character on NBC's Cheers and reprised his role in the spinoff series Frasier, which then went on to air for eleven seasons before being cancelled in 2004. Grammer has also appeared in a plethora of movies like X-Men: The Last Stand and has voiced the character of Sideshow Bob on The Simpsons since 1990.
In addition, Kelsey Grammer appeared in three episodes of 30 Rock alongside Alec Baldwin. So, you could call their new ABC sitcom a reunion of sorts. It'll surely be interesting to watch the actors playing characters with huge egos and I'm positive that they'll be butting heads a lot throughout the new show.
The untitled sitcom does not yet have a premiere date scheduled, but stay tuned to CinemaBlend for updates. In the meantime, be sure to check out our 2020 fall TV schedule and our 2021 winter and spring premiere guide for more options.
Your Daily Blend of Entertainment News
Thank you for signing up to CinemaBlend. You will receive a verification email shortly.
There was a problem. Please refresh the page and try again.