Legends Of The Hidden Temple Is Getting Rebooted For Adults, And Not On Nickelodeon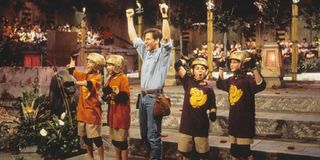 Everything's coming up '90s! Legends of the Hidden Temple, Nickelodeon's iconic competition show, is getting the reboot treatment. The revived Nickelodeon series is being reimagined with adults in mind and is set to air on Quibi's mobile video platform.
The Legends of the Hidden Temple reboot will feature many of the same components, including the Moat Crossing, Olmec, and the Temple Run. The biggest difference will be that the set will now be outside the studio and set in an actual jungle. The contestants will face even tougher challenges, but viewers should expect the rewards to be much bigger. Quibi is taking this reimagining very seriously.
The reboot is being produced by Nickelodeon and Stone & Company Entertainment. Legends of the Hidden Temple executive producer Scott A. Stone, who's also one of the series' original co-creators, had this to say in a statement about the competition show's revival:
The original premise of Legends of the Hidden Temple, which was inspired by the Indiana Jones movies, involved three rounds of competition and a final round featuring the iconic Temple Run. Six teams, each comprised of two kids, competed to nab a historical artifact. The gameplay employed a combination of athletic agility and brainpower to win.
The competition series became so popular that it inspired the made-for-TV movie of the same name, which aired on Nickelodeon in 2016. The original Legends of the Hidden Temple ran for three seasons from 1993 to 1995. Though production halted midway through Season 4, the game show continued airing reruns on the network until 1999.
Quibi is making quite a name for itself. In addition to the reboot of Legends of the Hidden Temple, the in-development streaming service has also picked up Arrow star Stephen Amell's Code 8 series, which is based on the movie of the same name, a revival of Reno 911! with the series' original cast members, the Zac Efron adventure series titled Killing Zac Efron, and Steven Spielberg's anthology Spielberg's After Dark.
The service's premise is simple. It'll offer short-form entertainment, which series episodes lasting no longer than 3 to 15 minutes. Quibi has created its platform specifically with millennials in mind. While it has a number of star-studded projects lined up in advance, the streaming service is joining a number of other competitors in the market, including Netflix and Disney+. Time will tell how it'll do.
Quibi (opens in new tab) is currently slated to launch on April 6, 2020. For more on what to watch, be sure to check out our 2020 midseason schedule to find out when your favorite shows are premiering.
Your Daily Blend of Entertainment News
Your Daily Blend of Entertainment News
Thank you for signing up to CinemaBlend. You will receive a verification email shortly.
There was a problem. Please refresh the page and try again.