Jeffree Star Officially Responds To Those Kanye West Rumors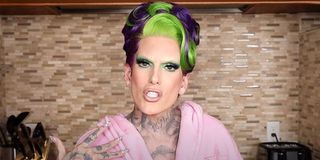 We're a little over a week into 2021, and it's already proving to be one of the most interesting years on record. This has certainly been the case in the realm of celebrity news, with reports recently surfacing that Kim Kardashian and Kanye West are allegedly on the brink of divorce. However, this report led to a strange rumor that claimed that the divorce was partially attributed to West allegedly sleeping with YouTube beauty guru Jeffree Star. The internet personality initially posted a photo that appeared to mock the situation but, now, he's setting the record straight.
TikTok influencer Ava Louise was the person to claim that Kanye West and Jeffree Star had engaged in a relationship years ago. Though Louise claimed her source was legitimate, she didn't reveal them, saying that she could be sued if she did. She later added that the person was allegedly a big-time, entertainment lawyer who was familiar with West's and Kim Kardashian's divorce.
Needless to say, the rumor caused quite a stir around the web. Upon hearing the news himself, Jeffree Star took to his YouTube channel to address Louise's claim in a video, and he was not too thrilled when he read the headlines:
It definitely sounds like Jeffree Star found the rumor to be pretty outlandish, especially considering that he and Kanye West live in totally different places and run in different social circles. In the same video, he later doubled down on the rumor not being true:
Well, at the very least, the public can now rule out an affair with Jeffree Star as a reason for the potential dissolution of Kim Kardashian and Kanye West's marriage. Divorce rumors have surrounded the two for a while now, with it most recently being reported that they have been "living separate lives." The initial divorce report also cited the difference in the pair's priorities as a cause for the potential divorce. The situation has become such a point of public interest that many are now watching to see when Kardashian is and isn't wearing her wedding ring. Still, reports indicate that the two have still spent time together and even bought each other expensive holiday gifts.
Neither Kim Kardashian nor Kanye West have publicly responded to the divorce reports as of this writing. Keep it here at CinemaBlend for updates on their situation as they arrive and for more news from the world of TV and movies.
Your Daily Blend of Entertainment News
Covering superheroes, sci-fi, comedy, and almost anything else in film and TV. I eat more pizza than the Teenage Mutant Ninja Turtles.