How One Original Fresh Prince Of Bel-Air Star Feels About The Drama Reboot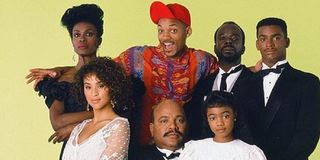 The Fresh Prince of Bel-Air reboot is going in a different, darker direction than that of the 1990s sitcom. The reimagined series will star an entirely new cast and is also partially based on the viral trailer from director Morgan Cooper, which saw the storyline of the beloved NBC sitcom take a dramatic and more realistic turn for the characters. Recently, original Fresh Prince of Bel-Air actress Tatyana Ali revealed how she felt about the drama reboot.
Fans of The Fresh Prince of Bel-Air will getting a double dose of content in the nearish future. Over on HBO Max, the original cast reunited for an unscripted special that will air in November. Meanwhile, the drama reboot has been picked up for two seasons at Peacock, NBC's streaming service. While Will Smith was unwilling to do a reboot just a few years ago, he's now fully onboard to develop this new take on the show with Morgan Cooper. And it turns out Tatyana Ali is also pretty excited about the reboot herself. Here's what she told ET:
I agree, the original show really did focus on "real" social and family issues that not all sitcoms aimed for. The Fresh Prince of Bel-Air gave audiences a variety of episodes that focused on the Black experience on top of its sillier shenanigans, and I think that's definitely a big part of what makes the show still feel so special and relevant today.
There have been a lot of rebooted and reimagined 90s shows in recent years, from Will and Grace to Fuller House. While I never imagined that The Fresh Prince of Bel-Air's magic could be replicated, taking the previous material and spinning it into a drama is a pretty original concept. The reimagined series (officially titled Bel-Air) will still be familiar, but it sounds like it will have its own unique spin and that's all we can really ask for in a reboot these days. So long as the new show maintains that Uncle Phil throws Jazz out the front door in the exact same way every time.
While we wait for more news on The Fresh Prince of Bel-Air reboot, the original sitcom cast is getting back together for a reunion special. Tatyana Ali says she's "sworn to secrecy," so we don't know much about it beyond the basic reunion premise. In a shocking twist, however, the HBO Max special will also include both Aunt Viv actresses, Janet Hubert (a.k.a. the original Aunt Viv) and Daphne Maxwell Reid, so that should be quite the unique situation.
I definitely didn't see that one coming, considering the decades-long tension between Will Smith and Janet Hubert. Hubert left The Fresh Prince of Bel-Air after three seasons and later alleged that Smith screwed everyone over; she'd also been frank about not being interested in seeing anyone from the cast again. I'd wager something changed more recently, and the HBO Max special is set to reunite her with Smith for the first time since she originally left for "an emotional reunion and a candid conversation."
The Fresh Prince reboot does not yet have a premiere date scheduled, but the reunion special is set for a November release on HBO Max. Stay tuned to CinemaBlend for updates, and be sure to check out our 2020 fall TV schedule for more options.
Your Daily Blend of Entertainment News
Thank you for signing up to CinemaBlend. You will receive a verification email shortly.
There was a problem. Please refresh the page and try again.