8 TV Shows To Watch Streaming If You're Trying To Get Your House Organized, Including Tidying Up With Marie Kondo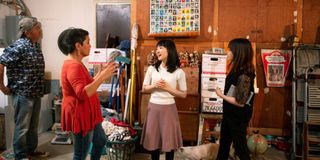 CinemaBlend participates in affiliate programs with various companies. We may earn a commission when you click on or make purchases via links.
Ah, homes. Apartments. Even dorm rooms and bedrooms. They get messy.
Sometimes, you don't even know where to start when cleaning. There's just so much clutter on the ground that sometimes organizing and cleaning up a home seems impossible to do. I know for years trying to keep my apartments in check has been hard, mainly because I didn't know how to make good use of the small amount of space that I had. But that was before I discovered home shows – specifically, home shows that make me want to get my life in check.
Sometimes, all you need it a little guidance. Streaming services like Netflix and Amazon Prime have made a point to put out more shows like this, from Tidying Up With Marie Kondo and others, finding ways to spark joy into our own lives.
So that's why these are the best shows to head into with the new year if organization and cleaning up your life is your goal.
Tidying Up With Marie Kondo
There's a reason why I mentioned this twice already. Tidying Up with Marie Kondo walked so any organization show out there now could run. After its breakout season in 2019, the show has become one of the best ways to inspire new organizers to get started on their clutter.
The show is hosted by Marie Kondo, an organizing consultant from Japan, and the creator of the KonMari method – which basically means that you gather all of your belongings together and if it "sparks joy," you keep it. If it doesn't, get rid of it. It sounds so simple and yet her method is one of the best ones out there to get started on keeping your house clean and tidy.
Stream it on Netflix.
Get Organized With The Home Edit
I freaking love The Home Edit. While Marie Kondo was the first organization show to make its debut on Netflix, this show really takes organization to a whole new level, featuring some of your favorite celebrities.
Hosted by two organization experts, Clea and Joanna, The Home Edit travels to different homes to organize celebrities' lives, such as Reese Witherspoon, Neil Patrick Harris, Eva Longoria, and more. While it's only had one season (so far) the tips are easy to pick up. And, if you happen to really like the way they organize certain things, you can pick up most of their actually organization tools from their online store. It's a great way to learn how to get started but also continuously practice those methods.
Stream it on Netflix.
Hoarders
Okay, admittedly, Hoarders doesn't really teach you how to organize. There are tips and tricks in there, but Hoarders is to motivate you to organize. It's nice when you can get that actual help but when viewers see homes like the ones that are featured in this show, it literally makes you never want to keep a spare receipt again. These are the victims of compulsive hoarding disorder, where you literally are so attached to items it impairs your sense of organization.
Hoarders has been around for years, even having a revival because it was so popular. It makes people want to keep their homes clean because of how bad some others look. Some obsessions start out so small and then build into something intense like what is featured on Hoarders. Truly, if you need the motivation to keep your home tidy, this is the way to go.
Stream it on Netflix.
Hot Mess House
Again, one of the new shows that have sprung up due to the craze about organization. Hot Mess House premiered on HGTV in 2020 and is hosted by Cassandra Aarssen, an organization expert who talks to fortunate participants' to try and get their "hot mess" of a home back in shape.
Through tips and tricks, she offers guides to the folks she helps on how to best organize their home, and from there they actually get free rein of what they want to do. It's really an interesting take on the genre considering most of the time the organizing gets done for the participants but now they have the full control to do whatever they want. Cassandra is sort of there as a guide, and that's the key really to all these shows.
Stream it on Discovery+.
Hack My Life
Remember life hacks? Even if those were a trend, they can very much be used in your regular life, and that's what Hack My Life is there to teach. Running for four seasons, the series was hosted by Kevin Pereira and Brooke Van Poppelen, and the goal was for viewers outside of the show to share their life hacks on social media sites like Tumblr, and then they would bring it forward for the world to see through the show.
It's really cool to see the strange ways of how different types of everyday items can be used. What makes this series really worth the watch is that near the end, they actually discuss what hack is actually worth the time and the money to use, so you don't end up wasting your time if you try them in real life. For someone trying to get their own head organized and not just their home, maybe Hack My Life is the best way to find those little shortcuts.
Stream it on HBO Max.
Minimalism: A Documentary About The Important Things
Okay, okay, it's not a TV show, but I personally think this film is so important for people who want to cut down on clutter. Minimalism: A Documentary About The Important Things is so important because it really teaches people how to live a minimalistic life, where you don't need all these possessions that you hold so dear. Only the essentials are needed.
Sometimes, people can be a little bit too materialistic about items that they hold, but this film shows that there's no need to be like that and to keep that clutter close to your heart. It's truly a life-changing experience for the viewer who wants to change their life for the better.
Stream it on Netflix.
Bea Organized
When it comes to smaller spaces, this is one of the best shows to turn to. Bea Organized talks about the simple ways in which your little spaces can be organized, from the inside of your desk to your closet to hacks from the Dollar Store that you can use - I bet she could even find some way to organize this closet.
Hosted by Beatrice Copeland, she takes the viewer on a brand new type of #organizationinspo with how she not only tries to redo homes but lives in general, from sharing hacks about going to the beach to the lighting in your room. What makes this series even more worth the watch is that the episodes are super short – like 5 minutes and less short. Talk about learning about organizing super quickly, Bea Organized is the way to go.
Stream it on Amazon Prime.
Extreme Makeover: Home Edition
This was my all-time favorite show as a child – maybe it's why I'm so into organization now. Extreme Makeover: Home Edition is more or less a show about destroying a person's home and rebuilding from the grass, giving a grateful family a fresh start. While it doesn't necessarily teach the person how to organize, it shows great tips on how to freshen up the lifestyles that you live and add a little color back into your life.
The original series ran until 2012 and recently had a revival with Jesse Tyler Ferguson as the host, but no matter who is taking care of the show now, it's still the same values as before – everyone deserves a new beginning, and sometimes that requires a bit of hard work to get there. If not for the tips on living, the stories of some of the families are worth the watch on Extreme Makeover: Home Edition.
Stream it on Sling TV.
With how many options there are out there, it might be tough to pick which show to begin first. Either way, your organization needs will most certainly be met through any of these choices.
Big nerd and lover of Game of Thrones/A Song of Ice and Fire. Will forever hate season eight. Superhero and horror geek. And please don't debate me on The Last of Us 2, it was amazing!
Your Daily Blend of Entertainment News
Thank you for signing up to CinemaBlend. You will receive a verification email shortly.
There was a problem. Please refresh the page and try again.