Hugh Jackman Recalls Having No Idea How Long It Would Take Him To Get In Shape To Play Wolverine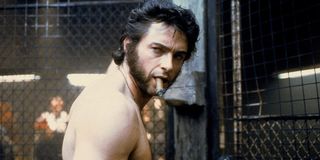 Today, the workouts actors have to do to prepare for their superhero roles are well known for taking a long time and being intense. Few actors get away with not at least doing some kind of workout. But when superhero movies were just starting to gain popularity, it wasn't as well known, which is why Hugh Jackman had no idea how long it would take him to get in shape to play Wolverine in the first X-Men movie.
Hugh Jackman and Anne Hathaway recently interviewed each other recently for the Variety segment called Actors on Actors. The conversation of the tough superhero workout came up since Anne Hathaway learned it all too well on The Dark Knight Rises. Hugh Jackman, for his part, recalled how that wasn't totally on his radar at the time. Here's what he had to say:
Go ahead and look up "Wolverine then and now," and you'll see the split screen shots Hugh Jackman is talking about. The difference in his physique is startling. Clearly back then, the superhero body expectation hadn't been firmly established yet. Now, save a few actors that can get away with it, most superhero actors have put on muscle.
Of course, trying to bulk up in three weeks wasn't going to happen, which Hugh Jackman hilariously understands now in hindsight. Since some scenes in X-Men did require him to work out more, Hugh Jackman explained how long it actually took him:
Over the 17 years that he played Wolverine, Hugh Jackman radically changed his body to fit the superhero character. When it was time to end things with Logan, though, it sounds like he didn't mind the workouts so much as the diet.
Now that Hugh Jackman is officially done as Wolverine, another actor will have to step up and tackle the tough workout and diet required to bring the character to life. Whoever that person is, hopefully those in charge will give him more than three weeks' notice about the workout.
Your Daily Blend of Entertainment News