Is Marie Kondo Tidying During Self-Isolation? Here's What The Netflix Star Says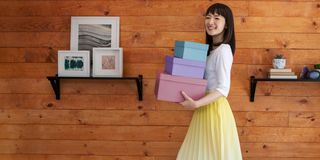 It wasn't that long ago that Marie Kondo's tips and tricks for maintaining a tidy home became ingrained into our pop culture. Many viewers of Tidying Up With Marie Kondo likely found a lot of peace in keeping only that which kept them joy. However, now that the world is facing a pandemic and self-isolating at home, how is the best-selling author and Netflix star coping and is she also tidying up in quarantine?
With a large portion of the population quarantining at home, things may get a bit more cluttered than usual. And that's understandable considering it's an unprecedented time and people's homes have turned into the primary workspace for so many. Amid all that's going on, Marie Kondo reveals the various ways that she keeps her mind calm. Yes, it includes cleaning. Here's what Kondo told Shondaland about keeping the order while in quarantine:
It's definitely more important than ever to tidy up and keep spaces as clutter-free as possible. Personally, decluttering offers some peace of mind in these times and Marie Kondo has the right idea about being "mindful" of your space and of family time.
Still, it can be hard to focus and achieve that sense of calm during self-isolation. Luckily, Marie Kondo has some advice for how she handles and copes with letting things go in order to achieve a sense of calm during the pandemic and it starts with tidying up the mind. Here's how she puts it:
The author and Netflix star is currently doing a book tour via Zoom to promote her latest published work, Joy at Work: Organizing Your Professional Life. Marie Kondo is poised to return to the streaming service with her new show, Sparking Joy with Marie Kondo, which is set to premiere at some point in 2021.
Tidying Up With Marie Kondo is currently streaming on Netflix. For more on what to watch, be sure to check out our 2020 summer premiere guide.
Your Daily Blend of Entertainment News
Your Daily Blend of Entertainment News
Thank you for signing up to CinemaBlend. You will receive a verification email shortly.
There was a problem. Please refresh the page and try again.