The Walking Dead's Best Character Couples, Ranked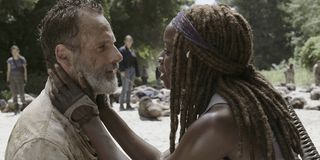 When it comes to The Walking Dead, survivors have to find love too, right? It's only a matter of time before someone starts to shack up with the other because the inevitable feeling of death is so strong that it can be overwhelming. Sometimes people just need someone by their side, and there are no exceptions to if it is a world full of zombies or not.
There are still good and great couples of The Walking Dead, such as Rick and Michonne, but just because they might be one of the most famous doesn't mean they are the best. This is the absolute list of the best couples from The Walking Dead, and why? Because with these new episodes coming up, I have a feeling we're going to need a little bit of love in our lives.
Major Walking Dead spoilers ahead!
Honorable Mention: Negan and Lucille
I mean, I can't have a list of the best couples on The Walking Dead and not mention Negan and Lucille. And no, I'm not talking about the woman that was his wife before the world went to crap – I'm talking about the bat. Those two make a formidable couple and Negan loves that thing with his whole heart – as creepy as it is. I'm going to make him an honorable mention though just because it is an inanimate object. Okay, on with the list.
10. Henry And Lydia
At first, I wasn't the hugest fan of Henry and Lydia. The couple felt like a replacement for Carl from the show since he had just been killed off in the previous season. But over time, I did start to grow a small connection for the romance that they had.
Maybe it's something about teenage love that I liked the most about them, the innocence of it all in an apocalypse. Maybe it was because they were sort of like The Walking Dead's version of Romeo and Juliet. Either way, they left their mark on me enough where they're on this list.
9. Rick And Lori
Okay, okay, yes, their relationship grew toxic as hell towards the end of it since Lori had cheated on him with Shane back when she thought Rick was dead – and, you know, had Shane's kid. But no one can deny that Rick and Lori pretty much started The Walking Dead.
The whole entire first couple of episodes is about him wanting to find her and their son, so Rick could get back to them. It began this crazy journey that all of us have been on. And for that, I need to at least give them a spot in the top 10.
8. Abraham And Sasha
Did I think Abraham and Rosita were cute? Yeah, I did, but I also personally think that Abraham and Sasha actually fit better together, if that makes any sense. Did I think that the way Abraham left Rosita was horrible? Yes, and because of that, I'll always hold a bit of disdain in my heart for the ginger-haired warrior.
But I think what made Abraham and Sasha's relationship so pure was how new it was. Both of them knew it was unexpected and sort of out of nowhere, but were willing to give it a try and see where it went, to explore new horizons and live their best lives together. It's a shame that Abraham was killed off only when they were just beginning.
7. Rosita And Gabriel
When I first found out that they were a couple on The Walking Dead, I did a double-take because I didn't think Father Gabriel, of all people, would somehow get the beautiful Rosita to be his woman, but damn, did I fall in love with their relationship.
What I really like about Rosita and Gabriel is that their love is very consequential. They never would have gotten together if not for the end of the world. But it's because of this that makes it so powerful because they truly do end up relying on each other and learning to grow not only as individuals because of the other but as a couple. Gabriel himself becomes a better man once he begins to date her. It's actually a surprisingly wholesome relationship.
6. Denise And Tara
Another relationship that ended far too quickly. The Walking Dead has a way of tearing at your heartstrings no matter what, and that's exactly what they did with Denise and Tara way back in Season 6.
They were the first couple on this show that represented anything close to a lesbian relationship and while it didn't last very long, it was symbolic of what would come in the future with unity among the communities. Denise was just beginning to grow into herself when that arrow went straight through her head. Still makes me cringe thinking about it.
5. Jerry And Nabila
My man, Jerry. From the moment I saw this goofball I knew I wanted him to be happy and to never die and did the show deliver. Not only was Jerry happy in that flashforward, and not only did he have a loving wife, but he also had a whole family with two little children, and another on the way.
He got busy once the Saviors were gone. And he deserves nothing less.
4. Carol And Ezekiel
I personally feel robbed of the relationship between Carol and Ezekiel on The Walking Dead. I never thought they would give Carol a relationship – and if they did, it would probably be with Daryl, as much as I never really supported that – but putting her with Ezekiel was something that I unexpectedly ended up enjoying.
Not only did they find each other in a time where they both felt lost and needed someone else to guide them besides their close friends to something happy, but they did also have a happy few years together. If it wasn't for Henry dying, they probably would have last much longer than they did, which is what makes this death of a relationship so sad. Circumstantial entirely, but it's nice to think back on with fond memories, as Ezekiel was the one man romantically who ever really treated her fondly. She even let her hair grow out because she wasn't afraid he'd pull it after her abusive relationship.
3. Aaron And Eric
Another sad ending to a relationship on The Walking Dead. Aaron has always been one of my favorite characters since his introduction in Season 5, mainly because he is just a regular guy in the apocalypse that just happens to be into men. It's not the whole focal point of his character, which is something that not a lot of TV shows tend to lean towards. But what I did really like was that he and Eric were a genuinely sweet couple.
They were so in love that at a certain point, they were willing to adopt this child that was in no way theirs but they wanted it to have a home. Once Eric died, Aaron went on to keep that child and raise her as a daughter, sort of almost in honor of his lost love. It's a tragic end to a short love story that I think could have been expanded more,
2. Rick and Michonne
Ah, Rick and Michonne. At first, I thought it was a bit strange on The Walking Dead, but over time I realized that the two of them, having been through so much, really deserved a little bit of happiness in their lives, and they found it in each other. Carl had begun to look at Michonne as sort of a mom figurine in his life, and she had become basically the mother to Judith, even though she was not her biological daughter.
But what makes their relationship even more stable is that they backed each other up no matter what, during the war with the Saviors and after. Even when Rick decided to let Negan live and Michonne held Maggie back from hurting him. They always had each other's backs. I can only hope that Michonne finds him soon so they can be reunited once more.
1. Glenn And Maggie
I can't have a The Walking Dead couples list without having Glenn and Maggie in the top spot. Are you kidding? Of course I have to. Glenn and Maggie were the OG couple in this series, the first to start dating, the first to get "married," the first to really plan a life together. And then it all went to shambles when Negan came around.
I think what gets to me the most is that their love was so pure. They both wanted to have a long life together and have a family. Maggie had even gotten pregnant right before his death because she wanted that so badly and felt safe in Alexandria. And then the future she wanted with Glenn was taken away from her. I don't blame her for wanting to kill Negan. Her whole entire world was stolen from her with a few hits from Lucille. It's still sad to think about.
What are your favorite couples from The Walking Dead? Do you think there will be any more in this upcoming season?
Big nerd and lover of Game of Thrones/A Song of Ice and Fire. Will forever hate season eight. Superhero and horror geek. And please don't debate me on The Last of Us 2, it was amazing!
Your Daily Blend of Entertainment News
Thank you for signing up to CinemaBlend. You will receive a verification email shortly.
There was a problem. Please refresh the page and try again.