Julie And The Phantoms' Cheyenne Jackson Had The Best Reaction To The Big Cliffhanger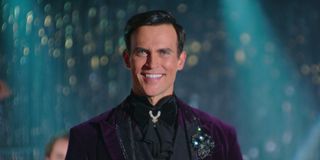 (Image credit: Netflix)
Julie and the Phantoms debuted on Netflix in 2020 with nine episodes of songs guaranteed to get stuck in the head and boasting Cheyenne Jackson as the musical villain who also happened to be a ghost magician who died back in the 1930s. Jackson's Caleb Covington didn't defeat Julie and her ghost bandmates even after the Phantoms didn't cross over, but he did turn up at the end to deliver a cliffhanger that promises Caleb isn't done causing trouble just because he didn't win possession of the Phantoms' souls.
Caleb Covington dropped by Julie's house in the Season 1 finale, not to go after Julie or the Phantoms again, but to possess Nick. Julie and the Phantoms (hailing from High School Musical's Kenny Ortega) ended on that Caleb cliffhanger, and Cheyenne Jackson shared his reaction with Collider, saying:
Poor Nick just wanted to give Julie some flowers after her powerhouse performance at the Orpheum, supporting her even after learning that she liked somebody else! Nick hadn't even done anything to wind up on Caleb's radar, and the show hadn't even established that ghosts could possess lifers to that point. Then again, no ghost other than Caleb might want to cross that line. As for what Caleb intends to do with Nick's body or how long he plans to inhabit Nick, fans were left wondering.
Unfortunately, Cheyenne Jackson couldn't come out and confirm or deny a second season on the way, but I think fans far and wide can agree with him that the cliffhanger demands a Season 2. Julie and the Phantoms ended Season 1 with plenty of questions needing answers even beyond whatever Caleb has planned now that he has possession of Nick. According to a Julie and the Phantoms executive producer, there are "absolutely" places for the show to go in a second season, if Netflix officially orders Season 2.
Netflix makes some of its decisions for renewals vs. cancellations sooner than others, with even some big hits going unrenewed for months after premiering while others like Bridgerton secured pretty quick orders for more. Julie and the Phantoms released back in September 2020, so fans have been waiting five months so far for any news about the future of the series.
A potential problem with producing more of this series -- or any series, really -- in the foreseeable future is the pandemic that continues to impact productions throughout the entertainment industry. Julie and the Phantoms needs its crowd scenes, because the band not drawing huge crowds to their performances would be harder to believe than everybody just going with the explanation that the Phantoms are holograms!
For now, fans will have to be satisfied with the nine episodes of Julie and the Phantoms available now. Netflix has plenty of other offerings as well to pass the time, and 2021 will pack a whole lot into primetime as well despite production challenges.
Resident of One Chicago, Bachelor Nation, and Cleveland. Has opinions about crossovers, Star Wars, and superheroes. Will not time travel.
Your Daily Blend of Entertainment News
Thank you for signing up to CinemaBlend. You will receive a verification email shortly.
There was a problem. Please refresh the page and try again.