The Most Challenging Scene From Netflix's Julie And The Phantoms, According To Madison Reyes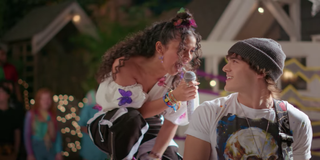 Julie and the Phantoms is hitting all the right notes for musical fans, as it has so much heart, and features a soundtrack full of hits. The band formed on the Netflix show has amazing chemistry, even though many members of the cast also happen to be newcomers. Director Kenny Ortega has recently shared some fun behind-the-scenes videos from filming, and it looks like all the actors are naturals. No matter how talented the cast, every show faces its challenges, and Madison Reyes (who plays Julie) has revealed the most challenging scene to film.
The scenes discussed are in the Season 1 finale episode, but no plot details are spoiled, so feel free to read on if you haven't finished the season yet. Madison Reyes mentioned the final song that is performed, along with a monologue scene where Julie has a moment of reflection that takes place in an alleyway outside the theater where the band performs. Here's what she told me in an interview with CinemaBlend:
The final days of filming are always emotional. For casts who get along great, no one wants the experience on set to end, and throwing so much emotion into something definitely presents a challenge because it is draining. It's amazing to see the payoff from this young cast giving everything they've got to make such touching TV. Trust me, you can feel the love this cast has for each other when watching the show.
Speaking of the cast's chemistry and performing as a band, I was curious to learn how they were able to pull that off when three of the four bandmates are ghosts. There is a lot of interacting to be done between musicians on a stage together, but Julie physically cannot touch the ghosts. As Reyes explained:
So there you have it. Kenny Ortega seems to have a magical touch, from High School Musical, to Descendants, and now with Julie and the Phantoms. He simply has the ability to equip young stars with the tools to break through anything. Every new challenge doesn't bring reward, but it seems this cast has literally put sweat and tears into this show and been rewarded for it.
While we await news on Season 2, Julie and the Phantoms Season 1 can be streamed to your heart's content on Netflix. Might I suggest you also check out the trailer for The Prom, coming in December, and these Disney Channel original movies?
Your Daily Blend of Entertainment News
Obsessed with Hamilton and most things Disney. Gets too attached to TV show characters. Loves a good thriller, but will only tolerate so much blood.
Your Daily Blend of Entertainment News
Thank you for signing up to CinemaBlend. You will receive a verification email shortly.
There was a problem. Please refresh the page and try again.