Julie And The Phantoms: 7 Reasons To Watch This Whimsical, Wonderful Netflix Musical Series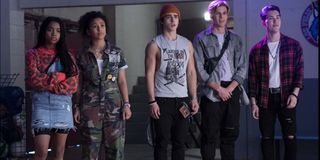 Julie and the Phantoms is a Netflix original series that premiered in Fall 2020. It tells the story of Julie Molina (Madison Reyes) and her ghost band. Julie meets the band after the loss of her mother, and after she decides to give up music. The band, Sunset Curve, died 25 years ago. The ghosts of Luke (Charlie Gillespie), Alex (Owen Joyner), and Reggie (Jeremy Shada) help Julie find her music again. Whenever they play with Julie, people can see them, but she's the only one who can see them when they're not playing music.
Julie and the Phantoms is a charming series that appeals to adults and children. If you haven't streamed this clever and fun show, it's time that you do. Let's dive into a few reasons why Netflix's Julie and the Phantoms is worth a watch.
The Catchy Music In Julie And The Phantoms
Kenny Ortega acts as executive producer and director of Julia and the Phantoms. Ortega already has an impressive history with musicals. He's the man behind High School Musical and The Descendants. Ortega knows how to make a catchy song, and he took it a step further when creating the soundtrack for Julie and the Phantoms.
In an interview with Entertainment Weekly, Kenny Ortega discussed the process of creating the band and music for Julie and the Phantoms. He spoke about having a large team of writers making the music, and he even mentioned having the main four actors work with writing mentors to write potential songs for season two. It was also very important for Ortega and the crew to find a band with genuine chemistry and musical talent.
Ortega and team clearly put a lot of effort into the fifteen songs that appear on the Julie and the Phantoms Season 1 soundtrack, and it paid off. Each song from the series gets stuck in your head. These songs don't just feel like songs from a television series, but songs you could easily hear played on the radio. "Wake Up" is a great song to introduce viewers to Madison Reyes's beautiful voice. She could easily join the league of pop divas like Selena Gomez and Taylor Swift. While "Unsaid Emily" adds the emotional punch it needs.
Each song brings out more traits of the characters and helps define the Julie and the Phantoms band, their sound, and message. Netflix knew they had some hit songs in the making, so they released the soundtrack the same day as the episodes became available to stream.
The Extremely Talented Cast, Especially Madison Reyes
Julie and the Phantoms cast is full of gifted newcomers, like Charlie Gillespie who plays Luke, Owen Joyner who plays Alex, Jeremy Shada who plays Reggie, and Reyes as Julie. They may have had past film and TV credits, but Julie and the Phantoms will definitely make them household names, especially Reyes.
Reyes is vocally very talented, but she also has a natural charisma that makes Julie relatable and rootable. She seems like a teen girl that many other teen girls could befriend or see parts of their personality in her.
Along with the newcomers, Julie and the Phantoms also includes some veteran actors. Booboo Stewart plays Willie, Alex's love interest, and his ghost mentor. Many will recognize Stewart from the Twilight Saga, X-Men: Days of Future Past, and the Descendants movies.
Singer and actor Carlos Ponce plays Julie's father Ray Molina. With Ponce also being a singer, it's just a matter of time before we hear him singing on Julie and the Phantoms, right? Cheyenne Jackson plays magician and sort-of underworld character Caleb. Jackson gets to showcase his many talents in the series, including acting, dancing, and singing.
Julie And The Phantoms Is Family-Friendly Programming
Julie and the Phantoms is a series that parents and their children can watch together. It's also a series that 20, 30, 40, and whatever-somethings can watch and not feel awkward about enjoying. It's family-friendly without being silly. Some family-friendly shows dumb themselves down so much that it just becomes so silly that only those under-5 can enjoy it.
Julie and the Phantoms is tame and wholesome enough that most children (maybe 10 and up) can enjoy it without parents worrying about graphic content, but it has enough emotional depth that it can really connect with an older audience.
The Mystery Of How Sunset Curve Died
We know Sunset Curve died from eating some bad hotdogs, but there seems to be a lot more to the story. We learn that someone from their past may have benefited from their death. That definitely makes that character a prime suspect in their death. Then we have Caleb, who we don't know much about, but he seems powerful enough that he could have set their deaths in motion.
Julia and the Phantoms Season 1 gave us no answers on Sunset Curve's death, but it laid the foundation to explore how and why they died in season two and beyond.
The Diversity And Inclusivity In Julie And The Phantoms
I appreciate a show that makes diversity and inclusivity a priority. It's obvious Kenny Ortega had that in mind when casting this series. It's a series with a Latinx teen and her family at the center. Her best friend Flynn (Jadah Marie) is African American. Carrie (Savannah Lee May)'s group Dirty Candy is also pretty diverse, with many different races and ethnicities represented in it. Julie and the Phantoms also includes an LGBTQ+ main character with Alex.
Reyes spoke about the series diversity and Netflix's aim to showcase representation.
The diversity of Julie and the Phantoms may allow children and young adults to feel represented and seen, and it could also open the door for storylines related to identity, race, gender norms, LGBTQ+ rights, and other topics that start discussions.
The Budding Romances
I am a sucker for a television show with an interesting romantic storyline. Julie and the Phantoms has that with Julie and Luke. It's clear that they both like each other, but they have the tiny problem of one being alive and the other being dead. The series established that they have a romantic interest in each other, but didn't really explore how a potential romance could (or couldn't) work between them. It's definitely something the series will likely explore more in future seasons.
The second major romance was between Alex and Willie. They also both like each other, and they're both ghosts, so they don't have that obstacle to stop them. We'll have to wait until Julie and the Phantoms Season 2 at least to see if they act on their feelings. I could also easily see the series even possibly exploring a romance between Reggie and Flynn, or Reggie and Carrie. Julie and the Phantoms has plenty of romance for those who enjoy a little romance with their TV shows.
The Allure Of Cheyenne Jackson's Devious Caleb
I think Cheyenne Jackson's Caleb may be one of the most interesting characters in the series. Jackson does a good job of playing a fun villain. He's evil, but not in a terrifying way, more in a sly, manipulative, and conniving way. We don't know much about Caleb yet but it'll be interesting to get his full backstory and learn more about his ghost powers.
Julie and the Phantoms set up a great foe with Caleb, and Season 1 set up a good cliffhanger involving him that we can't wait to see play out in Season 2.
Julie and the Phantoms is a series that's jolly, cleverly written, and easy to binge and want more. It's personally one of my favorite new series from 2020 and I hope Netflix renews it for a Season 2. Julie and the Phantoms is available to stream on Netflix. Stream it here.
Your Daily Blend of Entertainment News
Spent most of my life in various parts of Illinois, including attending college in Evanston. I have been a life long lover of pop culture, especially television, turned that passion into writing about all things entertainment related. When I'm not writing about pop culture, I can be found channeling Gordon Ramsay by kicking people out the kitchen.