Bridgerton's‌ ‌Rege-Jean‌ ‌Page:‌ ‌6 ‌Things‌ ‌You‌ ‌Might‌ ‌Not‌ ‌Know‌ ‌About‌ ‌Him‌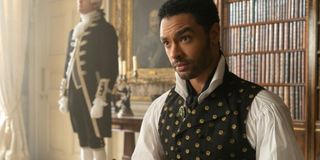 Regé-Jean Page is likely your new screen crush. The British-Zimbabwean actor plays Duke of Hasting Simon Bassett on Netflix's latest hit series Bridgerton. Simon is sexy, intelligent, and a complicated character, so it's no wonder that he's making men and women swoon. You may find yourself interested in Regé-Jean Page because of Simon's appeal, but the actor is even more fascinating than his character in Bridgerton.
Regé-Jean Page has appeared in big-budget films like Mortal Engines and major TV events like the Roots miniseries. Page has appeared in over a dozen credited film and TV projects, but Bridgerton has gained Page many new fans, who may want to know more about the dashing actor. Let's learn about this Bridgerton star together.
How To Pronounce Regé-Jean Page's Name
Regé-Jean Page has a very regal and unique name. I've watched many interviewers botch it, and as someone who has had people struggling to get my name right all my life, I suspect Regé-Jean Page has dealt with this issue many times in his life.
In 2017, he made it a little easier for the world by taking to Twitter to offer some clarification on the pronunciation of his name. His tweet states that Regé is pronounced like reggae, Jean like Wyclef Jean, and Page is clarified with a book emoji.
This lesson in how to pronounce Regé-Jean Page's name should make things clearer for those who have had to say his name really fast and quiet to keep people from noticing their mistakes. The tweet is a really clever and lighthearted way to clear up any confusion.
Regé-Jean Page Appeared In Shondaland's For The People
Bridgeton isn't the first time Regé-Jean Page worked with Shonda Rhimes's company Shondaland. In 2018, she launched her latest series with ABC called For the People. It was a legal drama with Page as one of the main characters. His character was Leonard Knox, an Assistant US Attorney-General.
For the People aired for two seasons before it was canceled in 2019. Page discussed with CBS This Morning how his prior experience working with the Shondaland company in For the People helped him land the role in Bridgerton.
He stated that he got a call from the company saying that they were working on a new project and, now that he was available, they wanted him involved. Page has constantly complimented the company. In an interview with the morning British news site i, Page said that the Shondaland company has a "very strong in-house style."
In an interview with Black Girl Nerds, he stated that the company has a goal to make the world better through the art it creates. Page stated that the Shondaland employees have mutual respect for each other and the material that they produce. He also said that Shondaland wants to make "good work for good reasons."
For the People is currently only available to purchase on VOD services, but if you need more Regé-Jean Page content, this may be a show worth checking out.
You Might Spot Him Very Briefly In Harry Potter And The Deathly Hallows Part 1
Internet sleuths are as dedicated and resourceful as the top government agencies. They leave no stone unturned and no fun fact unfun. The latest fun fact that they may have added to the pop culture world is that Regé-Jean Page may have appeared in the Harry Potter franchise.
A few took to Twitter to post screenshots and their excitement about seeing Page in Harry Potter and the Deathly Hallows Part 1. Page (or his look-alike) appears in a scene at the beginning of the film during Bill Weasley (Domhnall Gleeson) and Fleur Delacour (Clémence Poésy)'s wedding. The role isn't credited on Page's IMDB page, but he seems to have confirmed that he indeed was an extra in Harry Potter and the Deathly Hallows Part 1 when he gave a cheeky wink emoji to someone on Twitter about it.
Regé-Jean Page Grew Up In Zimbabwe And London
According to Variety, Regé-Jean Page was born in London, but moved to Harare, Zimbabwe as a toddler and returned to London at 14. In an interview with The Guardian, Page shared a little bit of what it was like growing up in Zimbabwe as a child of an interracial couple.
Regé-Jean Page Studied At The Drama Centre London
In London, Page began to really get into the art and acting scene. At 14, he joined the National Youth Theatre. In an interview with Interview Magazine, he stated that,
Page auditioned for two years before being accepted into Drama Centre London. Variety reveals that Page graduated in 2013 with a B.A in Acting. In his interview with The Knockturnal, he discussed how the school helped develop his work ethic. He said he had to work 14-hour days at the Drama Centre, so he learned stamina, discipline, and a responsibility for his work.
Page said that the school's main message was to always ask "why this story and why now?" before taking a project. In an interview with his former For The People co-star Wesam Keesh, on his podcast Wesam's World, Page mentioned how intense Drama Centre was and that it was notorious for being that way, and how the program expects many to drop out before completing it. He said it even had a nickname as the trauma center.
Page shared that that intense experience taught him pacing, to not give everything every day. Despite the Drama Centre London seeming like a terrifying place, it has produced many famous and extremely talented alumni, like actors Tom Hardy and Michael Fassbender, who Page mentioned in an interview with Harper's Bazaar are two of his dream collaborators. We could get a project one day with these Drama Centre alumni.
Regé-Jean Page Used To Be In A Punk Band
In the Fall Mag, Regé-Jean Page discussed his former punk band member status. Once he returned to London as a teen, he found himself in search of something more. He had this to say about his early experience with feeling out of place there:
Then he found punk music. He formed a band with his younger brother. Interview Magazine also revealed that he is one of four children and the third child. In the Interview Magazine profile piece, he described making punk music with his little brother as " loud, angry, righteous guitar music and screaming at people with various colors in our hair."
In the Fall Mag, Page also credits punk music with opening up his mind to artistic career pursuits.
Regé-Jean Page is a very talented and intelligent actor who we can't wait to see continue to thrive in Hollywood. Bridgerton has not been renewed yet, but there is a high possibility it will get renewed, then you can see more of the Duke and Regé-Jean Page in a possible Bridgerton Season 2. Stream Bridgerton Season 1 on Netflix here (opens in new tab).
Spent most of my life in various parts of Illinois, including attending college in Evanston. I have been a life long lover of pop culture, especially television, turned that passion into writing about all things entertainment related. When I'm not writing about pop culture, I can be found channeling Gordon Ramsay by kicking people out the kitchen.
Your Daily Blend of Entertainment News
Thank you for signing up to CinemaBlend. You will receive a verification email shortly.
There was a problem. Please refresh the page and try again.