Dax Shepard Explains Why Relapse News Was So Hard To Share After 16 Years Sober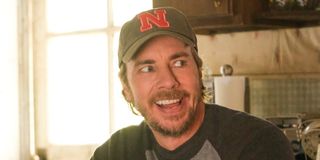 2020 was a tough year for everyone, as being in quarantine and isolation has been a bummer for most people. For those dealing with addiction during COVID times, the pandemic is not merely a disruption to everyday life, but a huge threat to their recovery. Big Hollywood names were not immune to this danger, with The Ranch actor and podcast superstar Dax Shepard speaking out last year about relapsing after 16 years of sobriety. Even though Shepard has a strong support system and is used to being outspoken about his life, going public with his relapse news proved to be especially difficult after he'd been clean for so long.
Dax Shepard first opened up about his relapse and struggles with opioids on an episode of Armchair Expert, a weekly podcast he co-hosts. More recently, the actor appeared on The Ellen Degeneres Show for the host's birthday and he reflected on his difficulties with sharing news of his recent relapse, saying that since he speaks about recovery so often, he was concerned it would have a negative impact on the podcast, while also negatively affecting listeners who are in recovery. In Shepard's own words:
Although he is far from the only celebrity to struggle with addiction and fall off the wagon, Dax Shepard has spent a lot of time and resources helping others who share his struggles. He uses his Armchair Expert platform in particular to help inform and support those who struggle with addiction and are attempting to get clean.
Dax Shepard likely had valid concerns that his relapse after being clean for 16 years would have an effect on the recovery processes of his most loyal fans and listeners, but there may be a bright alternative view. In the same appearance on Ellen, Shepard explains that a friend gave him a different way of thinking about how others view his relapse, saying that it may help to humanize the star. This is how he put it:
Being married to Kristen Bell and basically being the cutest couple ever does put Dax Shepard on a bit of a pedestal. It's important to remember, though, stars have their dark periods just like everyone else, and their lives are not always as sunny as they appears on the TV cameras. So when Shepard and other stars put those darker days in view for all to see, it helps bridge that human gap between everyday people and the celebrities.
Three non-potent cheers to everyone celebrating their sobriety today, and if anyone needs shows to binge to keep their mind off of more negative habits, check out what's streaming on Netflix this year.
Constantly thinking about books, coffee, and the existential dread I feel from Bo Burnham's Inside. While writing I'm also raising a chaotic toddler, who may or may not have picked up personality traits from watching one too many episodes of Trailer Park Boys.
Your Daily Blend of Entertainment News
Thank you for signing up to CinemaBlend. You will receive a verification email shortly.
There was a problem. Please refresh the page and try again.