WandaVision Just Answered A Whole Bunch Of Massive Questions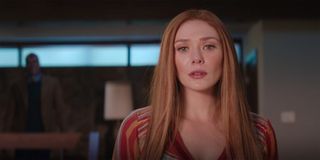 The first three episodes of WandaVision built up one hell of a mystery. Throwing audiences into the action without any context, the show simply presented itself to us as a strange sitcom sliding through time with Scarlet Witch and Vision at its center – albeit with some very bizarre moments thrown in that have made us question the nature of the reality. Basically, in the last few weeks we have been left scratching our heads and wondering where's it's all going… but now that Episode 4 has arrived, some key answers to questions we've been asking have been presented.
Now available on Disney+, Episode 4 is the first chapter of WandaVision that has taken us outside the bubble of "West View," and provided us with a fun outside-in perspective on the events, with S.W.O.R.D. and the FBI acting as audience surrogates equally curious to know what the hell is going on. Thanks to what plays out, some of the more bizarre instances of the series so far have now been explained in their own crazy way – so let's break it all down and work on figuring out what it means in the grand scope of things!
How Did Monica Rambeau End Up In West View?
As discussed in feature form here on CinemaBlend, the big reveal in last week's WandaVision, titled "Now In Color," was that Monica Rambeau is a S.W.O.R.D. agent who was somehow pulled into the strange TV reality. Of course, there were still plenty of questions left on the table – but now Episode 4 has answered many of them. The chapter of the Marvel series starts with the character un-Blipping, and after establishing her personal and familial history with the Sentient Weapon Observation Response Division follows her as she goes on what seems like a routine mission. Obviously it turns out to be anything but routine, as failure to do reconnaissance with a drone results in a closer inspection that pulls her into the TV reality accidentally. Clearly the trip messes with her mind a bit, but hopefully we'll get more of her take on what's happening within West View in the coming weeks.
What's Up With The Toy Helicopter?
One of the odder things that we learn about West View in Episode 4 is that whatever is surrounding the fake town is a kind of distortion field that changes anything that enters it into something that makes logical sense for the reality that's been created. A perfect example of this is the aforementioned drone that Monica initially uses to try and monitor the situation. Because drones didn't exist in the 1950s/1960s, the town changes it into a toy helicopter – which we first saw Scarlet Witch discover in WandaVision's second episode, "Don't Touch That Dial." But that's not the only thing that we see it alter in the new chapter…
Who Is The Beekeeper?
The arrival of the mysterious beekeeper from the sewer at the end of "Don't Touch That Dial" was a haunting note that very much changed our perception of what WandaVision is – but now we have been provided with a whole new way to look at it. When the hooded character first appeared, we registered him as a sinister figure, but the truth is that he only looked sinister because the reality shift made him look that way. In the new episode we learn that the guy is a S.W.O.R.D. agent named Franklin who simply sees his radiation suit transformed into a beekeeper costume because that technically is a better fit for the aesthetic of the TV world. (You also have to love that wonderful touch of the metal cable attached to him being transformed into an old school jump rope). It's not exactly clear what happens to Franklin when Wanda pulls her whole rewind bit, but maybe that's something we'll learn next week.
Are The Citizens Of West View Real?
Working within the speculation about Wanda manipulating reality, fans have been left wondering by the first few episodes if the various friends and neighbors of West View are actually real, but WandaVision Episode 4 has now directly addressed that question with a big yes. It turns out that all of the people living in the quaint suburb are ordinary individuals from the Marvel Cinematic Universe, but it is noteworthy that they don't appear in the "show" with their real names (for example, Vision's boss and his wife, Mr. and Mrs. Hart, are actually named Todd and Sharon Davis). From what we can tell the only thing they seem to all have in common is that they are all New Jersey residents (based on their driver's licenses), but why they are involved beyond that is left a mystery for now.
Who Is Doing This To Wanda?
For as long as we've known about WandaVision's basic concept, fans have been speculating that the strangeness has come as an extension of Scarlet Witch's comic book ability to manipulate reality – but that has frequently come paired with additional guess work wondering if there is a evil force that is manipulating her (a.k.a. a central villain). Based on what plays out in Episode 4, however, we are now forced to reckon with the very real possibility of a big truth: nobody is manipulating Wanda; instead, she is solely responsible for what's going on. That's Monica Rambeau's personal perception of the situation that we learn at the end of the chapter, and while it's possible that she doesn't have all of the facts, we feel inclined to take her at her word. And if that is really true, it means that Wanda must be in a seriously scary place mental health-wise – if not especially because she is apparently using her deceased android lover as a puppet.
After this episode of WandaVision, we most definitely have a much clearer perception on everything that's happening on the show – but where it's all headed is a totally different matter, and it's crazy to realize that we have now hit was is basically the middle of the series. Episode 5 will be launching on Disney+ (opens in new tab) next Friday, February 5, at midnight PST/3am EST, and you can be sure that we'll be watching the instant it becomes available and dissecting it right after for your pleasure!
Assistant Managing Editor
NJ native who calls LA home and lives in a Dreamatorium. A decade-plus CinemaBlend veteran who is endlessly enthusiastic about the career he's dreamt of since seventh grade.
Your Daily Blend of Entertainment News
Thank you for signing up to CinemaBlend. You will receive a verification email shortly.
There was a problem. Please refresh the page and try again.