Bachelor Spoilers: Who The New Bachelorette Might Be And When She'll Be Announced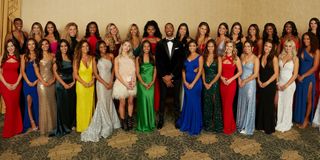 Warning! Potential Spoilers ahead for tonight's episode of The Bachelor and this year's season of The Bachelorette!
While all of Bachelor Nation is, obviously, awaiting each new weekly installment of Matt James' season of The Bachelor with bated breath so that we can plow through all of the drama and lovey-dovey action, there's also one other thing we're beginning to wonder about at length: Who will be the next star of The Bachelorette?! Even though a lot of the women on Matt's season have displayed some true trash goblin behavior, there are still some solid contenders in place. And, we think we might now know who the star of Season 17 of The Bacheorette might be, along with when she'll be announced.
As you'll likely know by now if you pay attention to spoilers on The Bachelor, Matt's season has been light on most details being leaked, probably because of the tight "bubble" filming process for Season 25. But, some info has trickled its way down to Reality Steve, he of the (usually pretty correct) franchise spoilers, and now he believes his sources have come through with the biggest detail for the next season of The Bachelorette. According to Steve, the lead to take over from reigning Bachelorette Tayshia Adams will be none other than vibrator queen Katie Thurston!
On top of that, from what Steve has determined, Katie will be announced as the lead for Season 17 of The Bachelorette during the Women Tell All episode, which was actually filmed last Thursday, and is why this spoiler has now been released. You probably know that Katie is still vying for Matt's heart as of last week's episode, but, according to Steve, that will change tonight. Apparently, we will see Matt and Katie have a 1-on-1 date this evening, and he will eliminate her sometime during those festivities.
I'm sure you remember how Katie was introduced to Bachelor Nation, as she arrived on night one with something which "got her through a lot" in the past several months of quarantine. Few of us will forget that that that special something was a very showy vibrator, which Katie proceeded to brandish as though it were an extension of her arm for the remainder of the first night. But, while it originally seems that Katie might be our reliable comic relief or maybe even a minor villain, fans have been very surprised at her journey on the show so far.
When bullying became an issue among the ladies on the show, Katie quickly took action and has been one of the few to stand up to those bullies, call them out for their behavior, and not back down, even though it could have alienated her from the other women. This is especially true since Katie was never really a target of the bullying herself, and could have easily stayed out of the whole mess to try and keep herself safe from any drama which might damage her standing with Matt.
Instead, she's become a standout and a favorite with fans for consistently (and very directly) asking the bullies to be kind and do better, and not being afraid to point out their toxic ways to their faces. And, when that didn't work, Katie went to Matt to let him know what had been going on.
Not only did that result in everyone finally being able to say goodbye to the dumpster fire that was the "queen" whom shall no longer be named, as well as one rumor-spreading contestant, but, as far as I know, Katie has been the only one to make such a move and not be immediately punished for it by being sent home for seeming to make an attempt at stirring up trouble.
Basically, while I think many of us would have loved to see other ladies, such as Chelsea Vaughn, Abigail Heringer, Michelle Young, or Bri Springs get a shot at being The Bachelorette this year, Katie Thurston is still a great choice, and I can't wait to see how she handles dating a gaggle of men in quarantine.
We can see, for sure, if Katie is our new star of The Bachelorette by following along with The Bachelor as it continues to air, Mondays at 8 p.m. EST on ABC.
Yennefer's apprentice, Gilmore Girl; will Vulcan nerve pinch pretty much anyone if prompted with cheese...Yes, even Jamie Fraser.
Your Daily Blend of Entertainment News
Thank you for signing up to CinemaBlend. You will receive a verification email shortly.
There was a problem. Please refresh the page and try again.