Kim Kardashian's Been Dealing With SKIMs-Related Drama, But She May Have Gotten The Last Laugh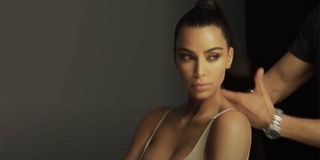 It's been a big few days for Kim Kardashian's SKIMS line, but probably not in ways the entrepreneur and reality star would have expected. First, she got called out virally by a TikToker who did not really enjoy the SKIMS experience or how it made her body look. Then, people got mad at her half-sister Kendall Jenner for looking super awesome while wearing SKIMS. Now, however, it kinda looks like Kim Kardashian is getting the last laugh.
While viral TikTok post and comments about Kendall Jenner whirled around the Internet, Kim Kardashian was busy hyping the brand new Valentine's Day-themed "Fits Everyone" collection for SKIMS, which added colors like "poppy" and "cherry blossom" to the line. Kim Kardashian and her sisters were busy sharing looks at the brand all week via posts such as this one.
Honestly, these would normally just be a seemingly innocuous ad for SKIMS I would have only half paid attention to, but in this case given the press and given how well the advertising seemingly paid off, it's worth delving a little deeper into. In fact, the entire collection reportedly sold out in under a minute if what Kim Kardashian later mentioned is accurate (via news.au), meaning that even with the haters online, Kim K. got some money in her pocket, and the final word on the matter. Let's take a look at what led to this moment ahead of SKIMs' V-Day collection.
What Happened With The Critique Of Kendall Jenner Wearing SKIMs
For the Valentine's Day holiday, as Kim Kardashian and co. were prepping the brand new premiere of SKIMs, she enlisted the help of her sisters Kylie and Kendall Jenner for a photoshoot. The two siblings glammed up and later also helped to promote the new line. In the images, Kendall Jenner looked great -- like a total model -- which some people online felt was a problem.
This led to some of Kendall Jenner's fans going off about how Jenner's look is unobtainable. Others mentioned Kendall Jenner has the money and the time to look as over-the-top good as she does (plus it probably helps her profession is actually modeling). All the back and forth even prompted Jenner to respond with her own body positivity post. But this all came around right as the new line was launching.
This wasn't the first SKIMs controversy over the last few days, as another TikToker also tried the brand and did not get the results she was likely hoping for.
What Happened With The Viral TikToker Who Does Not Get SKIMs
Prior to Kendall Jenners' mini self-image back-and-forth with an individual online, TikTok user Adria Barich just absolutely roasted Kim Kardashian's SKIMs in a series of posts aimed at discussing how she felt the shapewear really made her look. Spoiler: if you haven't seen the video it was not the most flattering look.
In fact, she compared herself to "Winnie the Pooh" and the "Pillsbury Doughboy" at various points in her roast. After the first video went viral, she has just turned her critiques with Kim's shapewear into a part-time TikTok gig and I honestly can't get enough. The second time around she even bought a larger size (which she takes issue with) to continue to give wholly relatable critiques about the brand. She's even doing shapewear Olympics at this point, so it's not a subject she seems to be planning to drop anytime soon.
Shapewear that "Fits everyone" indeed. Still, despite all of this, SKIMs must be working for some women, plenty of women even. It's available in a large swath of sizes -- from xxs up to 5x and it comes in a variety of different sizes, shapes and colors. While some TikTok users may not be fans and while some other women may not look as good as Kendall Jenner in the SKIMs, there is clearly a market for the product. Selling out in under a minute is no small feat, and probably one of the easiest examples of how she's been so successful overall.
Your Daily Blend of Entertainment News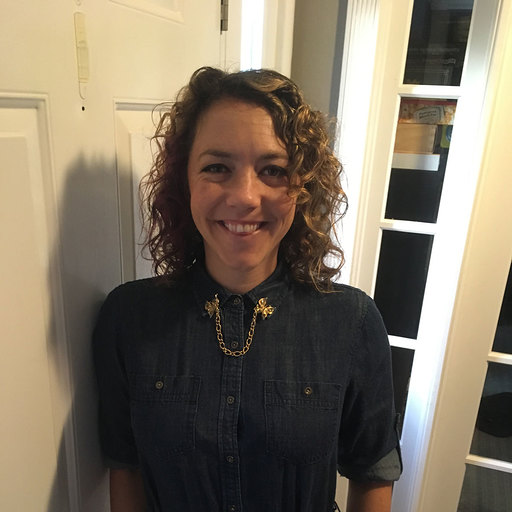 Reality TV fan with a pinch of Disney fairy dust thrown in. Theme park junkie. If you've created a rom-com I've probably watched it.